Klipsch introduced five new powered subwoofers with proprietary Digitally Controlled Subwoofer (DCS) Technology. The new Reference Series models include the RT-12d, RT-10d, RSW-10d, RW-12d and RW-10d subwoofers.
The flagship, triangular-shaped RT-12d and RT-10d subwoofers are small footprint, high-output models with powerful front-firing Cerametallic woofers and dual rear-firing passive radiators. These subwoofers easily fit into corners where they are less intrusive. This unique enclosure style also allows the passive radiators to face both corners of a wall for maximum bass performance. In fact, corner loading a subwoofer creates a six-decibel increase in output without an increase in power.
Through Digital Signal Processing (DSP), the RT subwoofers give users more control and flexibility with different source material. They both feature a patent-pending, top-side digital control panel that allows users to quickly and easily adjust all functions. The RT-12d and RT-10d also offer three equalization modes (flat, depth and punch) and five user-adjustable presets (music, movie, night and two name-your-own settings) to establish specific listening preferences. By utilizing a patent-pending auto room correction process, formally known as Adaptive Room Correction or ARC, and the included calibration microphone, these RT models ensure ideal performance in every listening area. They also come with an IR sensor for operation from any learning remote or control system.
Available in either a cherry or black wood veneer finish, the RT-12d employs three 12-inch drivers and an 800-watt continuous amplifier, while the RT-10d has three 10-inch drivers and a 700-watt continuous amplifier.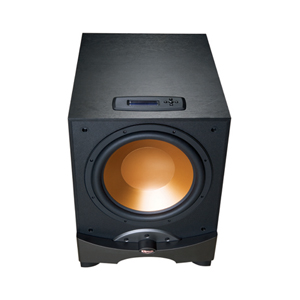 As the most compact subwoofer in the line, the RSW-10d has an even smaller enclosure than its predecessor as well as substantially increased amplifier power and all-new high-excursion drivers. The RSW-10d offers three user-adjustable presets (music, movie and night) and features the same digital control panel and equalization modes as the RT models. Available in a cherry or black woodgrain vinyl finish, the RSW-10d also comes with an IR sensor for operation from any learning remote or control system.
The RW-12d and RW-10d enhance the performance qualities that made the preceding RW-12 and RW-10 models so popular. These two new subwoofers still retain critical performance features such as exclusive Corner Port technology but now offer the same digital control panel, three equalization modes (flat, depth and punch) and three user-adjustable presets as the RSW-10d. While both the RW-12d and RW-10d come in a black woodgrain vinyl finish, the RW-10d is also available in silver.
The new entry-level RPW-10 subwoofer employs a 10-inch fiber-composite woofer and a 200-watt RMS amplifier. This model features traditional volume, crossover and phase controls and has a front-firing slot port for easy installation into custom cabinetry. Available in a black matte vinyl finish, the RPW-10 brings a new level of performance to the value-priced subwoofer category.
These subwoofers are sold at the following U.S. MSRP pricing:
$1,999 for the RT-12d
$1,599 for the RT-10d
$1,199 for the RSW-10d
$699 for the RW-12d
$499 for the RW-10d
$349 for the RPW-10
Klipsch has already introduced 14 other speakers in its Reference Series, including five floorstanding models, three bookshelf speakers, three center channel speakers and three surround speakers.
About Klipsch Audio Technologies
Klipsch Audio Technologies, a wholly owned division of the Klipsch Group, Inc., is a leading global manufacturer of high-performance loudspeakers and other entertainment products for the consumer and professional markets. Established in 1946, Klipsch celebrates its 60th anniversary this year, and continues its legacy of developing products that utilize unique, proprietary horn-loaded technology to create the most engaging, emotional and dynamic entertainment experiences. Acquired from company founder Paul W. Klipsch by Fred S. Klipsch and Judy L. Klipsch in 1989, Klipsch has worldwide headquarters and Audio Engineering and Technology Center in Indianapolis; European headquarters and a distribution center in s'Heerenberg, Netherlands; manufacturing facilities in Hope, Ark; and distribution centers in Buena Park, Calif.; Toronto, Canada; and Shen Zhen China.