Easy USB Connection of Multiple Displays for Windows and Mac OS X Users
DisplayLink today announced that its USB display technology is providing core functionality for the Kensington Dual Monitor Adapter, shipping today for Windows XP/Vista and Mac OS X platforms. The new adapter lets desktop and notebook users quickly expand their visual workspace by adding an additional monitor via a simple USB connection.
"With DisplayLink's unique hardware and software, a second display is just a single USB connection away," said Frederic Frappereau, Global Product Marketing Manager at Kensington. "For $119.99, both Mac and PC users can enjoy easier multitasking, increased productivity and a more pleasing visual environment without having to install complex video cards."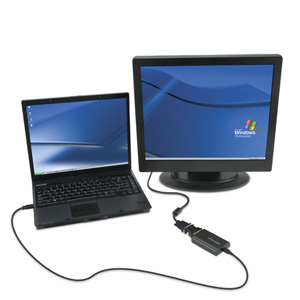 "A USB graphics adapter (UGA) is the most affordable way to experience the plug and display simplicity of DisplayLink technology," said Dennis Crespo, DisplayLink executive vice president of marketing and business development. "Once people try the instant usability benefits of using multiple displays, they get hooked."
What is a USB Graphics Adapter (UGA)?
Based on DisplayLink's unique hardware and software, UGAs provide the simplicity of USB to enable a simple external monitor connection, allowing users to quickly and easily connect and enjoy an additional display to a PC or laptop. A UGA is powered by the notebook PC and slips easily into a briefcase or carrying bag, for anytime/anywhere connection to projectors, docking stations or desktop displays. For online and brick and mortar retailers, the affordable retail price, compact design and versatile applications of UGAs enable placement in multiple sales areas, including Monitors, Notebook PCs, Graphics Cards and USB Accessories.
About the Kensington Dual Monitor Adapter
The Kensington Dual Monitor Adapter works with any DVI or VGA regular or widescreen monitor. Up to six additional monitors can be connected to a single PC using multiple adapters. The adapter supports widescreen monitors up to 1440 x 900 pixels and standard monitors up to 1280x 1024 pixels in 32 bit-color. Users can choose from several display modes, including mirrored desktop, extended desktop and primary display.
The Kensington Dual Monitor Adapter is available immediately for the suggested retail price of $119.99. A VGA adapter and USB cable are included, and the adapter is backed by the Kensington two-year warranty. For more information, visit the Kensington website http://us.kensington.com/html/14499.html or http://www.kensington.com.
About DisplayLink
DisplayLink Corp. is a network display chip and software company that helps people to create simple connections between computers and displays – via USB, making the benefits of expanded visual workspace available to everyone. Using universally accepted wired or wireless networking protocols and proprietary software compression techniques, graphically rich content can be transmitted easily between a single device and multiple displays over a network. Leading global manufacturers have integrated network display technology into an array of consumer electronics including USB-enabled monitors, video docking stations and display adapters. More information can be found at http://www.displaylink.com.
About Kensington
Wherever technology takes you, personalize it with Kensington, a worldwide leader in smart made simple™ computing accessories. Kensington makes smart, intuitive, and stylish computing accessories for notebook and desktop computers, MP3 players and iPods. Kensington Computer Products Group, headquartered in Redwood Shores, California, is the technology division of ACCO Brands (NYSE:ABD), a world leader in branded office products, with annual revenues of nearly $2 billion and products marketed in more than 100 countries across the globe. For more information, visit the Kensington web site at kensington.com or call Kensington toll-free at 1-800-235-6708.
kensington dual monitor Reviews
From Critics Around the Web