Robotic disc loader automatically imports your CDs, DVDs and Blu-ray discs and stores them for easy retrieval
Kaleidescape introduced the M700 Disc Vault, designed from the ground up to simplify and accelerate the process of adding movies and music to a Kaleidescape System. Up to 320 discs can be loaded into the M700 Disc Vault's precision carousel, where their contents are quickly copied onto the Kaleidescape System. This process is fully automated and requires no additional work on the part of the user. Once copied, a Blu-ray Disc must remain in the disc vault to enable playback of the digital copy from the server. DVDs and CDs may either be ejected or left in the M700 Disc Vault for safe storage and easy accessibility. The M700 Disc Vault makes it easier than ever to build and enjoy a personal movie collection.
The M700 Disc Vault also simplifies system installation. "With the M700 Disc Vault we are able to streamline the installation and loading of our customers' Kaleidescape Systems like never before. We can now quickly load the customers' Blu-ray Discs and DVDs onsite, or preload a Kaleidescape Movie Collection in our facility and ship the finished rack ready to roll," said Craig Abplanalp of Definitive Audio in Bellevue, Washington. "All that's left to do is power up the system when it arrives."
"Delivering instant access to Hollywood's best movies at the highest quality — anywhere in your home — has always been our passion at Kaleidescape," said Michael Malcolm, Founder, Chairman, and CEO. "We have spent the past ten years designing and building a family of products that solve real usability problems while providing the highest levels of performance and reliability. The M700 Disc Vault is an elegant addition to our product family that makes it easy to import your content, provides a safe place to store your discs, and makes it quick and easy to retrieve any disc when you need it."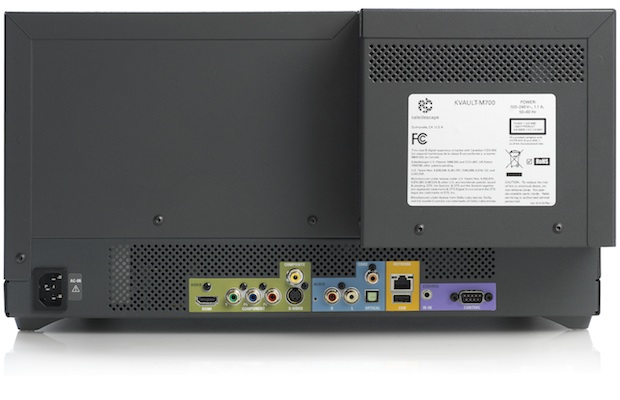 Key Features
Unattended, Automatic Import — Copies large numbers of Blu-ray Discs, DVDs and CDs onto a Kaleidescape System. You simply insert the discs and walk away.
Easy Expandability — Multiple M700 Disc Vaults can be added to a Kaleidescape System to house thousands of Blu-ray Discs, DVDs and CDs.
Front Panel Display — Indicates import progress, number of discs stored, and number of available slots. Buttons provide ability to eject all Blu-ray Discs, all DVDs, all CDs or all discs.
Efficient Organization — Clutter-free storage of up to 320 discs in just five rack units of space. The M700 Disc Vault also makes it easy to find a disc when you need it: simply locate the title in the onscreen display and select Eject Disc.
Integrated Kaleidescape M-Class Player — Provides pristine playback of movies stored on a Kaleidescape movie server.
Kaleidescape Design — Designed from the ground up for years of trouble-free operation. Kaleidescape engineers specified precision stepper motors, a high-strength belt, and an internal disc-retention shell.
Warranty — Includes a two-year limited warranty, extendable to five years.
Specifications
Capacity: 320 discs
Import Speed: 15 CDs per hour, 3 DVDs per hour, or 2 Blu-ray Discs per hour
Disc Media: CD Audio, CD-R, CD-RW, DVD, DVD-R, DVD-RW, DVD+R, DVD+RW, DualDisc, Blu-ray Disc
Blu-ray Disc: BD-Live, Profile 2.0
Regional Playback Control: DVD region code can be changed up to four times
Blu-ray Disc region code cannot be changed by user

KVAULT-M700-A (region A)
KVAULT-M700-B (region B)
KVAULT-M700-C (region C)

Any M700 Disc Vault can import any Blu-ray Disc. An imported Blu-ray movie will play if a component of the system matches the region code specified by the disc.
A component can only import a DVD matching the region code of the component. Any player can play any DVD movie once it has been imported.
Video Outputs: HDMI, Component YPbPr (RCA connectors), S-Video, Composite (RCA connector)
Video Modes: 1080p60/50/24, 1080i60/50, 720p60/50, 576p, 576i, 480p, 480i
Component output limited to 576p/480p for DVDs and 576i/480i for Blu-ray Discs
Audio Outputs: HDMI, Digital coaxial (RCA connector), Digital optical (TosLink connector), Analog stereo (RCA connectors)
Audio Formats: Bitstream pass-through of Dolby TrueHD and DTS-HD Master Audio, Dolby Digital, DTS Digital Surround, MPEG Audio, PCM
Network: 100Base-TX/1000Base-T Ethernet (RJ45 connector)
Kaleidescape Remote included
Front-panel IR receiver window
IR input (1/8 in. mini-plug)
RS-232 control port (DB-9 male)
Dimensions: 17.5 in. x 8.8 in. x 21.9 in. (44.5 cm x 22.4 cm x 55.6 cm)
Weight: 38 lb (17.2 kg) empty / 49 lb (22.2 kg) fully loaded with discs
Power: 100-240 V, 50-60 Hz universal input / 37 W typical consumption (32 W standby, 52 W max)
Limited Warranty: 2 years (extendable)
Price and Availability
The M700 Disc Vault is available immediately for $5,995 in the United States and Canada. Paired with a 1U Server, the M700 Disc Vault comprises a complete Blu-ray movie server at $15,990.