JVC introduced the UX-VJ3 dual dock that can handle an iPad and iPod or iPhone at the same time. The uniquely-designed tabletop music system offers 30 watts of power, an AM/FM tuner and a pair of separate speakers.
Available in black or white, the UX-VJ3 features a clean, simple design — a slightly angled vertical slab blends into a full-width LED illuminated base where the system's controls are located. An iPad and iPhone/iPod mount side-by-side, the iPhone/iPod to a rotating dock so it can be used vertically or in landscape mode. The separate wall-mountable speakers match the main unit in design.
In addition to its 30 watts and separate speakers, the UX-VJ3's other audio features include a subwoofer output, four sound modes (rock/pop/classical/jazz), a surround sound mode, and Sound Turbo function that provides a bass boost. A video output allows the dock to be connected to a TV and there's an auxiliary audio input for connecting other devices for playback through the dock. A remote control is included for convenient control of all main functions. In addition, the UX-VJ3 charges all connected devices.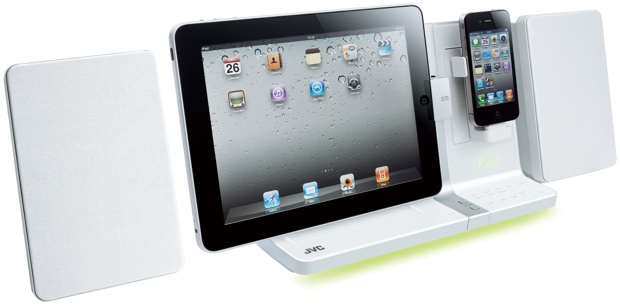 For even more versatility, the UX-VJ3 includes a clock, sleep timer and alarm.
Price and Availability
The JVC UX-VJ3 is available now for $199.95 in black or white.
See more about: iPad docks, iPod docks, Speaker Docks