For the active user, JVC announced the new sports clip in-ear HA-EBX85 headphone, which comes with ear hooks for a secure fit and is offered in three colors.
To ensure high quality sound reproduction, the HA-EBX85 features powerful neodymium driver units and friction noise reduction cords of 3.94 feet (1.2 meters). The earpieces come with soft rubber ear cushions in three sizes to ensure a customized fit and hours of comfort for any wearer.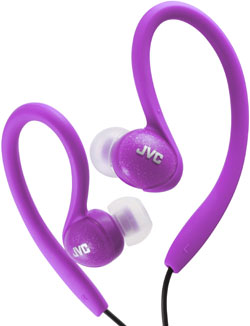 Designed for sports use, the splash-proof HA-EBX85 is both comfortable and practical, fitting securely in the ear and held comfortably in place by a soft rubber ear hook. This makes the headphones ideal for exercise and fitness activities, as they remain secure and comfortable even when working up a sweat. JVC's superior sound quality is further enhanced with powerful 0.43-inch (11mm) neodymium driver units. The HA-EBX85 is available in a choice of three colors — white, pink and purple — and comes with a slim, gold-plated iPhone-compatible plug.
The JVC HA-EBX85 sports headphones will be available in August for $19.95.
About JVC U.S.A.
JVC U.S.A., headquartered in Wayne, New Jersey, is a division of JVC Americas Corp., a wholly-owned subsidiary of Victor Company of Japan Ltd. JVC distributes a complete line of video and audio equipment for the consumer and professional markets.