JVC announced its new DRVN Series, a cohesive line of car amplifiers, speakers and subwoofers with a streamlined aesthetic and a more aggressive sound.
With matched components that are engineered to work with one another, JVC has improved the performance of the amplifiers, speakers and subwoofers in the DRVN Series to offer a more enhanced sound, providing a better solution for the entry/mid-level customer. The basic mesh grills have been replaced with an edgier design that incorporates sleek lines and a sharp look with more depth and complexity.
Amplifiers
JVC's lineup of DRVN amplifiers, designed to have a small footprint, feature a MOS-FET power supply and output stage, enhanced low-frequency sound performance, specifically tuned to CS-GD1200 woofers, increased dynamic power, and are all bridgeable.
The KS-AX3102 (65watt x 2 RMS) 400W Peak amplifier – $139.95
The KS-AX3104 (60watt x 4 RMS) 800W Peak amplifier – $199.95
The KS-AX3101D (250 x 1 RMS) 800W Peak Class D amplifier – $229.95
Speakers
JVC Mobile Entertainment's DRVN speaker series includes ten new models, as well as a new component set that all feature carbon mica woofers for high SPL, hybrid cloth/rubber surround, and wide range PEI midrange/tweeter. This is the first time JVC has offered component speakers at this price range.
Subwoofers
JVC Mobile's DRVN subwoofers include two designs which have been engineered to work in enclosures as small as .75 cubic feet.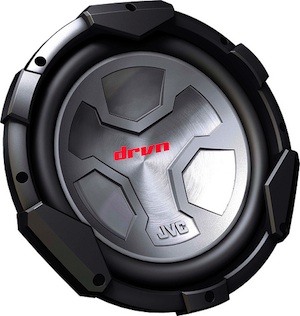 The CS-GD1200 is a dual voice coil with butyl rubber surround for max power. The dual voice coil features a 62.6 oz strontium magnet. It has 1400W peak/400W RMS, for $149.95.
The CS-G1200 is a single voice coil with urethane surround for fastest response. The single voice coil magnet is 39 oz strontium magnet. It has 1200W peak/250W RMS, for $99.95.
Reviews Around the Web:

jvc drvn series