For 2012, JL Audio announced the v3 generation of the W1 car subwoofer drivers, incorporating a number of significant advances, starting with the motor systems. Beefy six and eight-layer voice coils now work within a 25% larger motor structure than the v2's, while only increasing mounting depth by 1/10th of an inch (2.5 mm). The big payoff is a whopping 20% increase in linear excursion capability over the v2's, without changing the essential small-box excellence of the core design.
These motor enhancements were guided by JL Audio's proprietary DMA modeling system to deliver superior dynamic stability and low distortion within the W1v3's intended power envelope.
A new injection-molded cone body with a classic JL Audio logo steps up the cosmetics on the front of the driver, while a new black basket finish and field plates with machined surfaces dress up the rear in a major way.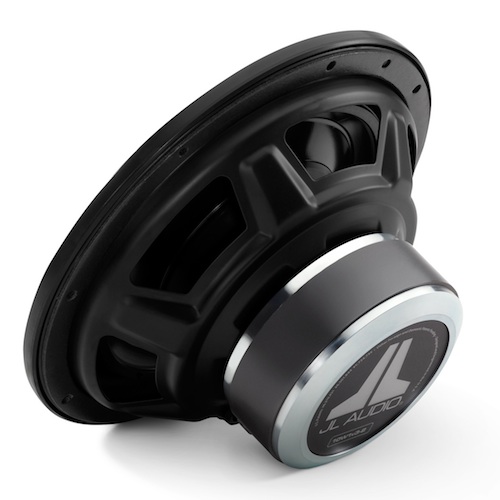 Features
Very small sealed enclosure volume requirements
Shallow mounting depth
No pole vent: permits mounting close to rear wall of enclosure.
Long linear excursion capability
Patented "VRC" vented reinforcement collar
Patented "floating cone attach method" technology
DMA-optimized motor designs
Stamped steel frame
Injection molded, mineral-filled polypropylene cone with rubber surround
Specifications
| | | |
| --- | --- | --- |
| | 10W1v3 | 12W1v3 |
| Nominal Diameter: | 10-inch (250 mm) | 12-inch (300 mm) |
| Recommended Power Range: | 75 – 300 Watts | 75 – 300 Watts |
| Xmax: | 0.45 in (11.4 mm) one-way, linear | 0.45 in (11.4 mm) one-way, linear |
| Impedance: | Single 2 ohm or Single 4 ohm | Single 2 ohm or Single 4 ohm |
| Rec. Sealed Enclosure: | 0.625 cu.ft. (17.7 l) | 1.25 cu.ft. (35.4 l) |
| Mounting Depth: | 4.5-inch (114.3 mm) | 5.29 in (134.4 mm) |
| Availability: | Second Quarter 2012 | Second Quarter 2012 |
| MSRP (USD): | $189.95 each | $209.95 each |
Key Improvements over W1v2's:
Larger, more powerful motor systems 12W1v3: 25% larger 10W1v3: 27% larger
20% more linear excursion capability