iBUYPOWER announced its new flagship Erebus gaming desktop PC designed from the ground up with liquid cooling and overclocking in mind. iBUYPOWER claims it embodies its namesake casting a dark shadow over the competition.
Four radiators (three 240mm "Dual" & one 480mm "Quad" radiator) and 13mm high flow tubing pump out 4.5 gallons per minute of cooling liquid to keep Erebus' rugged steel chassis ice cold. The smartly designed case creates a unidirectional air flow to help the cooling system reach a maximum rated heat dissipation of 3,400w of heat — more than the average home refrigerator, lighting, microwave and window unit air conditioner combined. Compression fittings alleviate any concerns about leakage, and a front panel level meter combined with top panel reservoir access make maintenance a snap.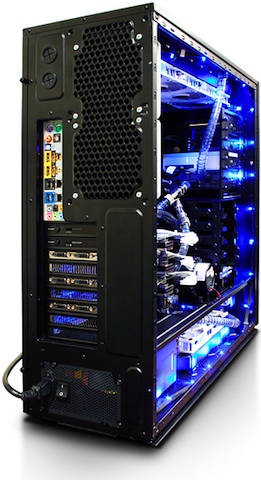 Erebus features the highest-quality components from Intel, ASUS, Koolance, Corsair and more to provide gamers with the experience of a lifetime. The spacious case can house up to 6 hard drives, 4 video cards, 24GB of memory and features front panel USB 3.0, a card reader and eSATA. Advanced profile lighting and professional wire management provide the case with a clean design worthy of a system of Erebus' stature. Top panel fins stealthily redirect noise and exhaust away from gamers, while the aluminum front panel provides a unique look only possible with custom liquid cooling.
"After two years of hard work and we are proud to unveil this ground breaking system." said Darren Su, Executive Vice President of iBUYPOWER. "Erebus' custom built liquid cooling system will allow gamers to push the overclocking envelope, delivering unparalleled performance and creating the ultimate gaming experience."
Price and Availability
The Erebus is available exclusively at www.iBUYPOWER.com and starts at $1,249.