HTC and Verizon Wireless introduced the HTC Rhyme smartphone powered by Android with the new HTC Sense interface. The elegant smartphone is aimed at people who care about how it looks and feels and can overlook its lack of 4G LTE download speeds.
HTC Rhyme features a 3.7-inch WVGA, super LCD display and high-quality stereo sound and a 5-megapixel camera that includes auto focus, power LED flash and instant shutter. In addition, the camera features a number of photo-taking and sharing elements, including face detection, which ensures that friends are always in focus, action burst scene, which automatically takes five consecutive shots of a scene, and panoramic mode, which lets users stitch several photos for those larger-than-life views. The HTC Rhyme's locked home screen can be customized to display the most important content, making it quick and easy to see social updates, photos, snapping a photo or the weather forecast by simply turning on the display.
A refreshed HTC Sense experience includes an all-new home screen that provides a clean and uncluttered way to interact with the essentials. The home screen enables quick, uncluttered previews of your appointments, messages or whatever is important to you. HTC selected custom wallpapers to offer a variety of original art to complement the HTC Rhyme experience.
HTC Rhyme makes entertainment come to life through HTC Watch, which features a wide selection of movies and TV shows that can be downloaded for instant viewing.
Integrated Accessories
HTC Rhyme's suite of accessories is designed with the same sensory focus in both function and style. Created to help you experience HTC Rhyme as a natural part of your life, the integrated accessories make your phone more personal than ever before.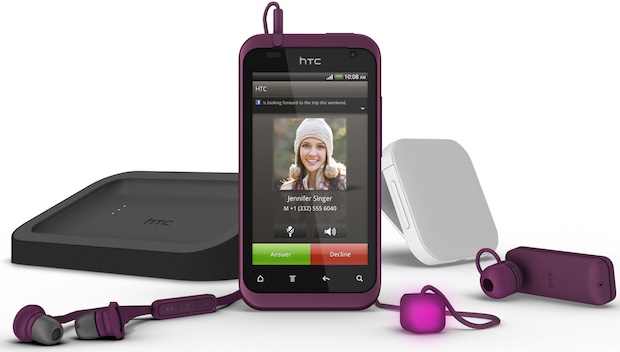 HTC Rhyme Docking Station – The Docking Station simultaneously recharges the phone while turning the Rhyme into an alarm clock and music center so you can wake to your favorite songs played directly from the built-in Bluetooth capable speakers.
HTC Rhyme Charm – The Charm is an innovative approach for discretely alerting you to incoming calls or messages while the HTC Rhyme is deep in your bag. The Charm is a small light-emitting cube that attaches to the phone by a cord that can dangle from your bag and also be used to quickly pull the phone out of your bag. It also makes it easy to find your phone buried in your cluttered purse or backpack.
HTC Rhyme Sports Armband – The Sports Armband allows you to work out in style while keeping your apps and music close to you.
HTC Rhyme Tangle Free Headphones – The Tangle Free Headphones take the hassle out of listening to your favorite music.
HTC Rhyme Bluetooth Headset – The wireless headset follows the same design cues as the phone itself and enables for easy hands free use.
HTC Rhyme Bluetooth Car Speaker – The wireless speaker clips onto sun visor in your car for easy and safe driving.
Pricing and Availability
The HTC Rhyme, which includes Docking Station, Tangle Free Headphones and Charm in the U.S. will be available from Verizon Wireless for rumored pricing of $199 w/ agreement.
Availability across Europe, Middle East, Africa and Asia-Pacific is expected October 2011 with the addition of Clearwater and Hourglass colors.
See more about: New HTC Smartphones, HTC Reviews, All New Smartphones