HTC announced the next-generation EVO 4G LTE smartphone will be available exclusively from Sprint in Q2 for $199.99 with an unlimited data plan. The new smartphone focuses on exceptional improvements in camera technology, audio and voice quality on both the network and device.
HTC EVO 4G LTE is built on Android 4.0, Ice Cream Sandwich, integrated with HTC Sense 4. HTC EVO 4G LTE boasts brilliant features, including a vibrant 4.7-inch HD display, HD voice capabilities, 1.5GHz dual-core processor, large 2000mAh embedded battery and dual-cameras (8-megapixel rear-facing and 1.3-megapixel front-facing) with instant capture capability. HTC EVO 4G LTE brings back the fan-favorite kickstand built into the smartphone's refined, slim design.

With the launch of HTC EVO 4G LTE, Sprint becomes the first U.S. carrier to announce plans for a nationwide HD Voice network beginning in late 2012 as part of Sprint's Network Vision program.
HD Voice is the next-generation evolution of voice quality and the future of voice communications for mobile phones. The service will provide fuller, more natural-sounding and less fatiguing voice quality and should reduce troublesome background noises often found in a cafe or on the street. Users should expect to identify voices and hear every word better than ever.
HTC EVO 4G LTE is Sprint's first device with HTC's Authentic Sound experience integrating Beats Audio. The technology enables customers to hear music the way the artist intended with unique audio tuning that delivers thundering bass, soaring midrange and crisp highs.
HTC EVO 4G LTE incorporates Beats Audio across the entire phone experience, including playing music stored on the device, streaming from a favorite service, watching a movie or YouTube video, or playing the latest hot game. HTC Sync Manager software also lets users easily get their music on the device from their PC, and it works with current programs, including iTunes.
Photography Features
The on-screen photo and video buttons are right next to each other so users don't have to switch modes. This allows the user to take video and still photos concurrently.
It makes the whole idea of "video mode" or "photo mode" irrelevant. While shooting a video, the user can just tap the shutter button and it captures a still image of that exact moment. Still images can also be captured during video playback.
HTC EVO 4G LTE's camera has a super-fast start-up and auto-focus time. With the fast auto-focus, users can easily stay with a moving object or person, taking numerous pictures just by holding the shutter button.
In addition, HTC ImageSense technology combines hardware and software advancements to the camera lens, sensor and software, including integration of a new custom HTC ImageChip, to take great photos even in adverse conditions. The best-in-class f/2.0 camera lens lets in 44 percent more light than the lenses used on most camera phones. The Smart Flash also adjusts the flash strength based on how far away the object is, so users won't get photos where everything looks washed out.
Style and Design
Crafted from aluminum spaceframe in an anodized black finish, HTC EVO 4G LTE delivers cutting-edge function and style in a thin and distinctive design. The smartphone's 4.7-inch display and 80-degree viewing angle makes it easier to share pictures and video with others. The multiposition kickstand allows users to watch videos hands-free.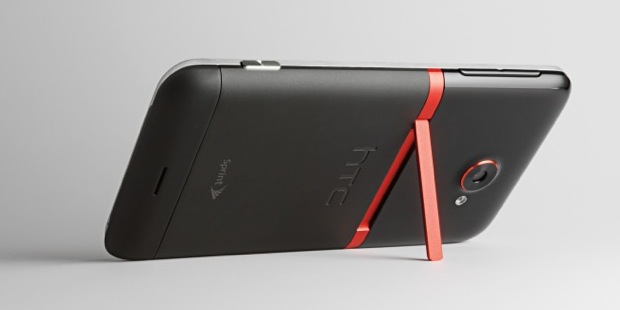 Price and Availability
HTC EVO 4G LTE will be available in the second quarter for $199.99 (excludes taxes and surcharges). The availability date will be announced later, but pre-orders will begin Monday, May 7, 2012.
See more about:
Newest Smartphones
HTC Smartphones
HTC EVO News & Reviews