HP announced the 27-inch ZR2740w LED Backlit IPS LCD Monitor delivering 2560×1440 resolution, 16:9 aspect ratio, 3.7 million pixels and more than 1 billion colors. The display is one of four new Performance Displays which include the 24-inch ZR2440w, 21.5-inch ZR2240w and 20-inch ZR2040w.
The four new HP ZR-series Performance Displays are aimed at professionals in animation, game development, broadcast, computer-aided design, design and graphic arts, where performance and visual quality are imperative. Each comes with light-emitting diode (LED) backlights for a slim industrial design, more robust colors and the elimination of mercury.
All of HP's ZR series displays employ IPS technology for ultrawide viewing angles. They offer up to 10 times higher contrast ratios when viewed from an angle as compared to mainstream monitors that use twisted nematic (TN) technology.
All four displays have sRGB-class color gamuts. The sRGB color space is the industry standard for web browsers, digital cameras and printers and also matches the Rec. 709 color space used for HDTVs and video editing.
HP Performance Displays undergo extensive testing to ensure compatibility with HP Z Workstations and feature coordinated brushed-aluminum accents. HP Performance Displays easily connect to a variety of devices, with the HP ZR2240w in particular providing a full range of DisplayPort, DVI-D, HDMI and VGA inputs.
The HP ZR2740w generates more than 1 billion onscreen colors for smooth color transitions that virtually eliminate banding artifacts. HP Direct Drive Architecture transmits the color value from the workstation graphics card directly to the billion-color panel with no alteration in the display
The HP ZR2440w, ZR2240w and ZR2040w show up to 16.7 million displayable colors and are ENERGY STAR rated.
Additionally, the 21.5-, 24- and 27-inch diagonal models feature an eight-way comfort adjust stand and new HP Quick Release 2, which is mounted flush on the back of the display for easy VESA mounting.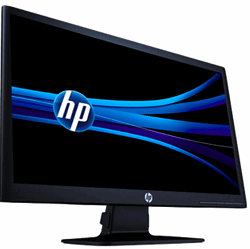 HP also announced the more affordably priced HP Compaq LE2202x 21.5-inch LED Backlit LCD Monitor. Its small footprint helps customers free up limited space and adds a modern touch to the workplace. Solid-state LED technology allows for enhanced color performance and a thinner profile than previous HP Essential Displays.
The LE2202x provides full HD 1920×1080 native resolution and fast 5ms response times offer crisp and detailed views. The 21.5-inch diagonal panel is BFR/PVC-free, mercury-free and arsenic-free, and the display's flat packaging reduces waste and shipping cost.
Pricing and Availability
See more about: LCD Monitors, LED Monitors, HP Monitors