HP LaserJet Pro P1102w
Industry's First "Plug and Print" Laser Printers
HP today bolstered the HP LaserJet Pro printer line with a new "plug and print" technology that allows customers to begin printing in as little as two minutes by simply connecting a netbook, notebook or desktop PC to the printer with a USB cable — no CD required.
New monochrome printers featuring HP Smart Install include the HP LaserJet Pro P1100 Printer series — the most energy-efficient laser printer on the planet — the HP LaserJet Pro M1130/M1210 Multifunction Printer (MFP) series and the HP LaserJet Pro P1566/P1606dn Printer series.
HP LaserJet printers with Smart Install
The new HP LaserJet Pro lineup features a sleek, black finish and delivers professional, cost-effective results while enabling small and midsize businesses (SMBs) to reduce their environmental impact.
The printers feature new HP Auto-On Technology, which intelligently senses activity — such as when a print job is sent to the printer — and awakens the device automatically from "off" mode. It complements HP Auto-Off Technology, which automatically adjusts the power settings and turns the printer off when there is no print activity.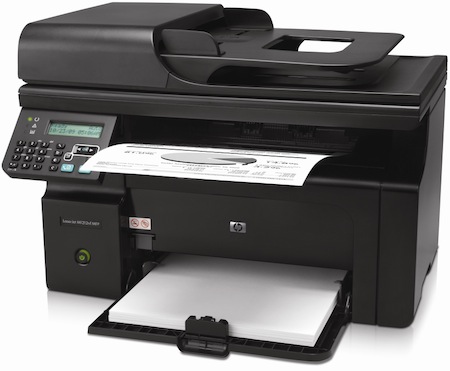 HP LaserJet Pro M1212nf
With HP Auto-On/Auto-Off Technology, the new HP LaserJet P1100 Printer series can save up to 72 percent on energy costs versus its predecessor. The printers also use Original HP LaserJet print cartridges with energy-efficient toner for energy savings of up to 35 percent on every page versus earlier products.
The affordable, ultracompact HP LaserJet Pro P1100 Printer series ($129-$149), features wireless functionality and is the company's smallest, most affordable laser printer. Offering fast print speeds, professional print quality, an intuitive control panel and HP Auto-On/Auto-Off technology, HP LaserJet P1102 and P1102w printers help customers affordably increase efficiency.
Ranging in price from $149 to $199, the HP LaserJet Pro M1130/M1210 MFP series (data sheet – pdf)is one of the lowest-priced full-featured laser MFPs on the market. The compact MFP series includes four models with embedded Ethernet connectivity and energy-saving features such as HP Auto-On/Auto-Off Technology and HP Instant-on Copy. In addition, the series enables SMBs to copy a duplex ID onto one page with ID Copy.
The HP LaserJet Pro P1566 Printer ($179) and HP LaserJet Pro P1606dn Printer ($229) offer exceptional quality, performance and value for SMBs. With fast print speeds, automatic duplexing to save paper, and embedded Ethernet connectivity, these new desktop printers enable customers to enhance productivity for everyday tasks.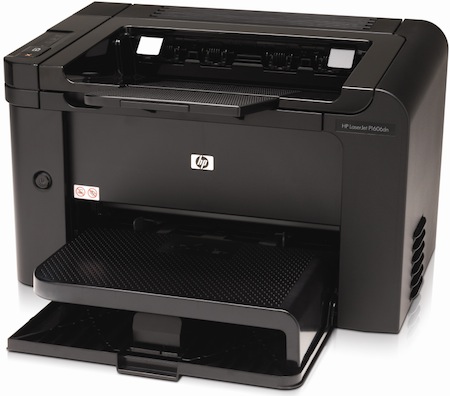 HP LaserJet Pro P1606dn
The HP LaserJet Pro P1102w and P1606dn Printers are available now for purchase worldwide, while the HP LaserJet Pro P1102 and P1566 Printer models are available now for purchase in Asia and Europe. The HP LaserJet Pro M1100/1200 MFP series is expected to be available for purchase worldwide next month.
In addition, the company is unveiling HP LaserJet Black Print Cartridge Dual Packs to help SMBs reduce the cost of high-volume printing. Beginning next month, dual packs for the HP LaserJet P2055 Printer series, HP LaserJet P1505 Printer series and HP LaserJet P1005/P1006 Printers will be available worldwide except in China and India, where dual packs for the HP LaserJet P1007/P1008 Printer will be available.