First of Its Kind HD Radio Accessory and Application Enabling iPhone and iPod touch to Receive HD Radio FM Broadcasts
iBiquity Digital Corporation, the developer of digital HD Radio™ Technology for AM and FM audio and data broadcasting, today announced that with the Gigaware Navigation Control HD Radio Receiver accessory and the Gigaware HD Radio application, iPhone and iPod touch users can receive HD Radio FM broadcasts.
The accessory and HD Radio application combination takes advantage of the iPhone 3.0 operating system and its ability to support external accessories. iPhone 3.0 allows application developers to utilize external hardware support. Compatible with iPhone and iPod touch models updated with 3.0 software, the application is available on the App Store and requires the compatible Gigaware accessory.
"Portable HD Radio is a great perk for iPhone and iPod touch users – and one that will certainly impact HD Radio broadcast entertainment to a massive user base that is constantly in motion," said Bob Struble, President and CEO of iBiquity Digital. "With iTunes Tagging, browser capabilities and interactive features, the HD Radio application creates a new level of relevance for radio. And since 65 percent of new music discovery occurs over broadcast radio, this is a natural marriage that's a total win for iPhone and iPod touch users."
The Digital Entertainment Upgrade
Adding HD Radio Technology to the iPhone and iPod touch is an easy two-step process: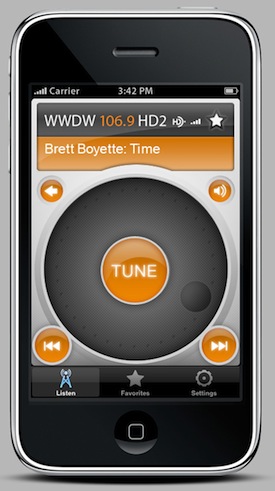 Step 1: Buy the Gigaware HD Radio accessory, designed for and sold exclusively at RadioShack for an MSRP of $79.99.
Step 2: Download the FREE application on Apple's App Store.
The Accessory
The Gigaware Navigation Control HD Radio Receiver, for use in conjunction with the HD Radio application, is the first unit to enable iPhone and iPod touch models to tune into HD Radio broadcasts, including HD2 and HD3 multicast channels. Exclusively available at RadioShack stores and through radioshack.com, the receiver enables HD2/HD3 channel reception, delivers Program Service Date (PSD), produces CD-like digital quality sound and gives consumers the freedom to operate the Apple device remotely. An iTunes Tagging button on the navigation control allows users to tag songs for future review and purchase on the App Store.