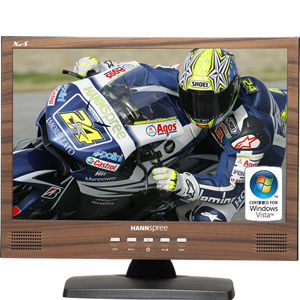 Xm-Series' "HANNS new york" and "HANNS boston" Monitors Let Users Express their Personal Style and Tastes in Exciting New Ways
HANNspree North America, Inc., a company renowned for its unique, high-quality design-centric consumer electronics products, today announced it has begun shipping its two highly anticipated Xm-Series design-centric 19-inch IT monitors. The Xm-Series monitors, HANNS boston (SRP: $249.99) and HANNS new york (SRP: $249.99), provide consumers with alternatives to traditional IT monitors, with stylish touches that let them express their personal tastes and passions in exciting new ways. Both high-value, high-performance monitors give computer users an attractive new alternative to conventional PC display solutions.
Both HANNS boston and HANNS new york feature Active Matrix LCD screens, individualistic styling and the unique 360-degree design approach that sets HANNspree apart from all other display manufacturers. Both feature Stand Cable Management feature to eliminate messy wiring on the desk, as well as swivel, tilt and height adjustments for total viewing flexibility.
HANNSpree Xm-Series monitors take a different approach to "breaking the mold" in traditional computer display design. The sophisticated 19″ Widescreen HANNS new york, for instance, with its rugged post-modern industrial cosmetic, sturdy brushed aluminum stand and overall "art techno" styling, derives inspiration from "industrial machine" design and offers the perfect complement for the most elegant Big Apple-inspired interior decor. For a more traditional style, HANNS boston boasts a wood-grain cosmetic and straightforward functional design that embodies good taste and refinement and would not be out of place in the most refined Beacon Hill brownstone.
Both Xm-Series monitors utilize the highest quality build materials, as well as many of today's most advanced display technologies, offering WXGA+ resolution up to 1440 x 900 (in the widescreen models), as well as astounding clear images, brightness levels up to 350 cd/m2 and response times up to 5ms. Both models feature advanced cable management and mounting options for total convenience and user flexibility, and feature 150-degree/135-degree viewing angles. For total flexibility and utility, both feature digital/analog PC inputs (DVI/D-Sub 15 pin) and user-selectable color temperature settings.
In its effort to provide customers with total satisfaction on their purchases, HANNSpree provides a full three-year warranty on parts and labor for its new Xm-Series IT monitors – and unlike some other IT monitor manufactures, this three-year warranty covers the display panel itself as well as all other monitor component parts.
About HANNspree
HANNspree was founded in 2002 to shake-up the consumer electronics industry with a bold new approach to monitor design and manufacturing. Applying state-of-the-art engineering techniques to visionary design concepts, HANNspree is responsible for creating an entirely new category of design-driven, lifestyle-inspired televisions and monitors. The company is headquartered in Taipei, Taiwan and maintains U.S. sales and marketing office in San Francisco bay.
HANNspree on the Web: http://www.hannspree-usa.com.