Crosspoint any Hi Def source to any or all eight HDTV displays as a one-to-one and one-to-many combination
Gefen today announced the availability of its new 8×8 CrossPoint Matrix for HDMI v1.3. This matrix switcher enables direct connections between high definition sources and displays without networking.
Eight Blu-ray players, gaming systems or set-top boxes using the HDMI format can be switched to any eight displays with the 8×8 CrossPoint Matrix for HDMI v1.3. High definition resolutions up to 1080p full HD are delivered instantly when selected. Plug and play operation and support for the expanded HDMI v1.3 format, including deep color as well as Dolby TrueHD and DTS Master Audio make this a useful addition to any environment using consumer equipment.
"This matrix requires no networking, and gives direct access to any eight hi-def sources from one or more hi-def displays," said Hagai Gefen, president and CEO, Gefen Inc. "It is a true matrix, allowing any source to be viewed on one or all eight displays."
Installation is simple, requiring the connection of eight hi-def sources to the eight HDMI inputs, and the connection of eight hi-def displays to the eight HDMI outputs. Users can assign any source to any display, relaying hi-def video with HDCP compliance and multi-channel audio with no signal delays.
The 8×8 Cross Point Matrix for HDMI v1.3 offers local front panel control, IR remote access and RS-232 compatibility. It comes with an external power supply, eight HDMI cables and rack ears for mounting.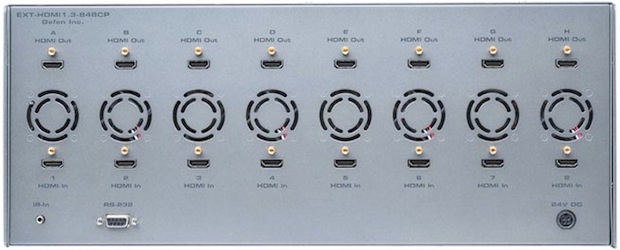 HDMI 1.3 Matrix Features Supported:
Dolby TrueHD & DTS-HD Master Audio
Deep Color (XV Color)
225 MHz (up to 12 bit YUV 444 @ 1080p
Lip-Sync Pass Through
Color Space Conversion
CEC Pass Through
Price