General Imaging (GIC), the exclusive licensee of GE digital cameras, is introducing a new, more affordable model to its GE CREATE by Jason Wu collection, making the designer camera more accessible for those demanding simplicity with a touch of style. The CREATE by Jason Wu digital cameras will be available September 15th with the option of 2GB of built-in memory, while maintaining the same easy to use functionality and first to market, retractable USB plug as the 4GB memory model currently on sale.
The new 2GB CREATE cameras will be available in both fine-grain leather and distinctive metal finishes for a suggested retail price (SRP) of $129.99. The $50.00 savings over the existing collection of CREATE models now shipping make this eye-catching camera perfect for the holiday gift giving season.
CREATE by Jason Wu is one of the first point-and-shoot digital cameras in the market to feature built-in USB connectivity; internal memory; and simple, one-touch operation. The retractable USB plug transfers photos and charges the camera, while the included wall adapter provides an additional charging option when away from a computer.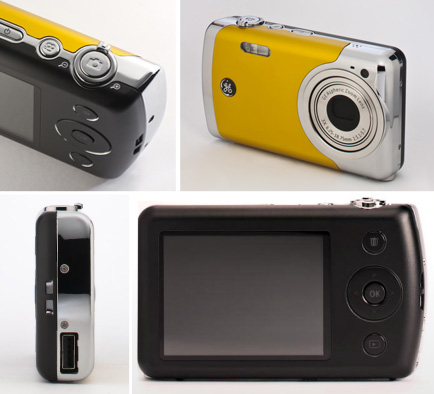 CREATE by Jason Wu pushes the boundaries for automating photography, self-adjusting for various scenery, lighting conditions, action shots and portraits, while alerting the user that someone may have blinked or not smiled. Further, a single push of either the photo or video button seamlessly captures crisp images and movies without fumbling through cumbersome navigation dials or screen settings.
The new 2GB CREATE cameras complement the existing 4GB model, giving consumers a more affordable option while allowing them to take advantage of the same built-in internal memory. With 2GB of memory, CREATE can store more than 2,000 pictures when set to capture the most common print size of 4-inch by 6-inch photos. The option to select web or DVD quality videos is also built-in to CREATE.
The original product in GIC's debut of its Design Series, the CREATE by Jason Wu collection is the result of an exclusive partnership with Jason Wu, the 27-year-old designer famed for dressing First Lady Michelle Obama and stylish celebrities like Natalie Portman, Diane Kruger and Drew Barrymore. Available in leather or metal, each CREATE camera features eye-catching and unique colors hand-picked by Jason Wu and inspired by his runway designs. Gorgeous accessories, including an elegant wrist strap, and soft microfiber camera pouch or designer leather camera case, further appeal to the targeted female demographic and vary by retailer.
CREATE by Jason Wu digital cameras are available at nationwide retailers ranging from a SRP of $129.99 to $179.99.