Gateway's newest all-in-one desktop offers an affordable, elegant alternative to traditional designs
At Digital Life, the industry's premiere consumer electronics show, Gateway, Inc. (NYSE: GTW), unveiled one of the industry's slimmest and most stylish computers yet, the Gateway One™. The no-compromise elegant design, simplicity and expandability of Gateway's newest all-in-one PC brings sophistication to computer design, proving PCs don't have to be boxy and boring.
"Gateway One exemplifies the idea of simplicity, of less is more," said Gary Elsasser, Gateway's senior vice president of products. "This computer complements its environment and becomes a design element you want to show off as much as you want to use. Because it doesn't compromise on features or performance, it will be appreciated for its brains as well as its beauty."
Elegant by design, Gateway One redefines the home PC emphasizing beauty as its outward focus. Adding to its elegance, Gateway One also eliminates unsightly wires, requiring only one cable, providing a clutter-free, clean workspace. The system's wireless peripherals and invisible speaker system eliminate messy jumbled cables, further enhancing its streamline modern look.
A stylish alternative to traditional designs, the Gateway One resembles a high-end flat panel TV with a wireless keyboard. Despite its compact design, it is a fully-featured PC featuring a widescreen LCD. When configured with an optional TV tuner, Gateway One blends Internet browsing, gaming, music and broadcast entertainment into one, making it perfect for the family room, kitchen, bedroom, or dorm room.
Initially available exclusively at Best Buy, Gateway One is on display at Digital Life in the Gateway, Best Buy and Microsoft booths.
"Our customers buy their PCs for reasons beyond the functionality of the system. Their computer reflects their lifestyle," said Wendy Fritz, vice president of computing experience at Best Buy. "As more and more customers put their computer at the center of their home, making it an extension of their television, photo album, music library and movie-watching experience, they are putting style at forefront of their purchasing decision."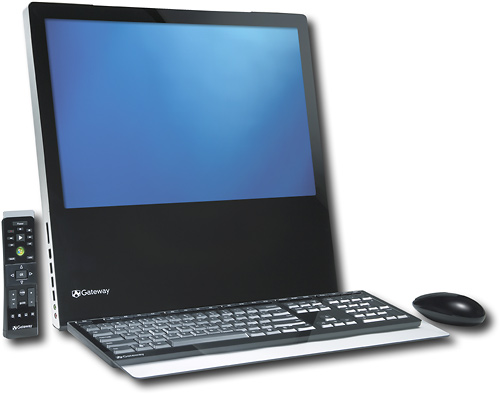 Design Reigns Supreme as PCs Become the Home's Digital Entertainment Hub
As evidenced by a June 2007 Forrester Research report, The Age of Style In Consumer PCs(1), consumers are placing a greater emphasis on the style and design of their computers, especially as PCs in the home become the hub for the digital life.
"Thirty-seven percent and 28 percent of consumers, respectively, identify with the statements, 'Good design is important to me' and 'I want the things I own to reflect my sense of style,'" noted J.P. Gownder, analyst with Forrester Research. "Style will grow in importance as Gen Y ages, and style in general is becoming more important to consumers across all product categories."
The stylish feature-rich design of Gateway One enhances the appearance of any room. Its smooth polished reflective front finish creates a first-class impression and elegant presence. With a compact design and small footprint, it fits perfectly in space-constrained environments. Its design also makes it ideal for any room in the home where consumers want to make a statement.
Looking right at home in the family room or kitchen, younger children can be online or doing homework, close to their parent's help and oversight. Having a PC in the main living area makes access to family photos, directions, traffic and weather reports quick and easy.
City dwellers in small studio lofts will also appreciate its elegant design and small size. Its high-fidelity sound system and ability to function as a TV, DVD and CD player make it a natural choice for those who want to maximize space and functionality without compromising on style or performance.
The beauty of Gateway One is accentuated by its extremely simple set up process. The wireless keyboard and mouse don't require synchronization like most wireless devices, so consumers can simply remove Gateway One from the box, plug in a single cable and they're ready to go. Built in multi-antenna dual band a,b,g and n wireless LAN frees users to use Gateway One any where in the home without sacrificing network performance.
The cable plugs into a "smart" power module. Both the power module and the PC include strategically placed USB and Ethernet ports. This eliminates unsightly cable clutter from DSL or cable modems and printers, while convenient USB and 1394 ports on the PC can be used for quick access to commonly used items like USB flash drives, MP3 players and cameras.
Furthering its use and functionality, the Gateway One is almost completely silent when running. It uses much less power than a typical desktop PC, thanks to low-power components, an external power module and smart power management.
Leading Technologies Help Consumers Get the Most Out of Their PC
Despite its visual simplicity, the Gateway One is a no-compromise performance PC featuring powerful technology including Intel Core™ 2 Duo processor and advanced graphics options. The Intel dual-core technology packs two processing "brains" into every PC allowing consumers to run multiple applications more smoothly with less degradation in performance, such as watching the latest YouTube video while downloading music. The processor and advanced graphics serve to quickly render 3D images and provide a fast overall response rate, delivering seamless action and vibrant images. A 19-inch widescreen display brings lifelike, HD quality to digital images.
"Intel worked closely with Gateway on many of the platform design innovations for the Gateway One and is excited to help deliver the simply elegant system," said Patrick Gelsinger, senior vice president and general manager of Intel's Digital Enterprise Group. "The Gateway One is a great example of how the high performance, energy efficient Intel Core 2 Duo processors help redefine the look and response of consumer PCs. Equipped with the Intel Next-Gen Wireless-N technology, consumers have the ability to harness Internet-delivered video, television and engage in social networking through a product that is expandable and complements their lifestyle."
Perhaps one of the most innovative features on Gateway One is the PC's front polished surface, which delivers high-fidelity audio, serving as a "hidden" speaker. NXT SoundVu patented exciters hidden behind the front panel vibrate the panel surface to create rich stereo audio. There is no need for external speakers, which only create clutter, collect dust and send consumers looking for yet another power plug. This invisible speaker solution elicits a jaw-dropping response from users and delivers a high quality audio experience. Deciphering where the sound is coming from reinforces Gateway One's intrigue and deliberate, elegant design.
Unlike other compact design or all-in-one PCs, the Gateway One welcomes expansion. Its tool-less chassis makes it painless to upgrade. By simply sliding two latches to remove the back panel, users have easy access to key components. A standard desktop SATA hard drive from another PC can be easily slid into one of the drive bays and accessed immediately, making it easy to back up or transfer data.
Expansion capabilities include seven USB 2.0 ports, one 1394 port, two memory slots, two desktop hard drive bays and more.
Windows Vista and a Media Center remote control enhance the entertainment value of the Gateway One. Consumers can easily create and share digital documents, photos, music and videos, participate in digital communities, and play online and offline games. The wireless remote makes it easy to play music or movies from across the room.
"Microsoft and Gateway are committed to developing new technologies and innovative products together that give consumers new ways to experience their digital lives," said Scott Di Valerio, corporate vice president, OEM division at Microsoft. "Gateway One complements Windows Vista and offers the simplicity and elegance that consumers crave."
In addition, models with a TV tuner allow user to enjoy Gateway One just like a TV with built in personal video recording. Users can schedule shows to be recorded and watch what they want when they want. The built in IR blaster port combined with the TV inputs supports almost any source of television — antenna, direct cable, and cable set top boxes For those that want to connect their PC to an amplifier or entertainment system for digital sound, Gateway One's power module includes an optical audio S/PDIF output jack and a coaxial audio output jack.
The flexibility of an adjustable webcam makes it easy to record v-mail or video clips for posting to websites or blogs. Depending on the user, it can be angled for different heights, eliminating the need to tilt the display. When not in use, it can be removed and stored away.
The design philosophy for Gateway One extends all the way to its wireless mouse. Featuring a touch sensitive scroll bar instead of a wheel, it cups nicely in the palm and feels like a smooth river rock.
Configurations
Gateway is offering two retail versions of Gateway One exclusively through Best Buy. Gateway.com will also offer a third configuration through its Direct channel.
The $1,299.99 configuration includes an Intel Core 2™ Duo T5250 dual-core processor; Intel Graphics Media Accelerator X3100; 320GB SATA II hard drive(2) and a 1.3 megapixel webcam.
The $1,799.99 configuration includes an Intel Core 2™ Duo T7250 dual-core processor; ATI Mobility Radeon™ HD 2600 XT graphics; 500GB SATA II hard drive(2) and a 1.3 megapixel webcam and an analog/digital TV tuner.
The Gateway One model available direct from Gateway includes an Intel Core 2™ Duo T5250 dual-core processor; ATI Mobility Radeon™ HD 2600 XT graphics; 400GB Serial ATA II hard drive(2); and a 1.3 megapixel webcam for $1,499.99.
See http://www.beautyofone.com/ for additional information.
Pricing and Availability
Gateway One is now available for pre-order through Gateway's Direct channel (http://www.gateway.com/ or 1-800-GATEWAY) and through its exclusive retail launch partner, Best Buy at http://www.bestbuy.com/. The product will ship and be available in retail stores starting in November. Prices range from $1,299.99 to $1,799.99 depending on model and configuration.
North America Based Telephone Technical Support
While many PC vendors go off-shore to save service costs, Gateway's telephone technical support for U.S. customers is 100-percent based in North America. Customers are assured their calls are handled by knowledgeable, experienced, well-trained and dedicated support agents close to home(3).
About Gateway
Since its founding in 1985, Irvine, Calif.-based Gateway (NYSE: GTW) has been a technology pioneer, offering award-winning PCs, servers and related products to consumers, businesses, government agencies and schools. Gateway is the fourth largest PC company in the U.S. and among the top ten worldwide. The company's value-based eMachines brand is sold exclusively by leading retailers worldwide, while the premium Gateway line is available at major retailers, over the web and phone, and through its direct and indirect sales force. See http://www.gateway.com/ for more information.
All offers subject to change without notice or obligation and may not be available at all retail locations. Prices listed are manufacturer suggested retail prices and may vary by retail location.
(1) Forrester Research, June 2007, "The Age of Style In Consumer PCs"
(2) Accessible capacity varies; MB = 1 million bytes; GB = 1 billion bytes. TB = I trillion bytes.
(3) Service methods subject to change without notice or obligation.