FujiFilm introduced the 12-megapixel, 26x long zoom X-S1 digital camera that looks like a SLR, but does not have a removable lens. The X-S1 features a large 2/3″ 12 MP EXR CMOS sensor and a newly-developed, bright all glass and high-definition FUJINON F2.8 Wide-Angle to F5.6 telephoto lens with an ultra-smooth 26x manual zoom (24-624mm). The FUJINON lens consists of 17 glass lens elements in 12 groups, to offer amazing clarity and high resolution through the entire image. The new FUJINON lens has a metal cam design that delivers smooth, precise zoom control, and an O-ring that is injected with a specially blended grease similar to what is found in high definition broadcast television lenses.
The X-S1 is the ideal "all-in-one" camera because it offers all of the benefits of a DSLR system in a single camera and lens body. It is the third model in the X-series, which includes X10 and X100 compacts. The X-S1 is designed to exceed expectations in all photographic situations, and is especially well-suited for nature photography thanks to its impressive wide angle, long zoom and super macro capabilities all from a single lens.
The EXR processor delivers an extremely fast auto focus while minimizing shutter lag and supports high speed continuous shooting of approximately 7 frames per second (fps) at full resolution. The premium long zoom X-S1 has a wide, 1.4 million dot electronic viewfinder (EVF) that is exceptionally bright and clear, and it includes a heads-up sensor that automatically switches between the viewfinder and the LCD screen when the camera is raised to the user's eye to compose an image. The viewfinder uses two glass lenses and one non-spherical lens to capture realistic lighting and display true-to-life images. The X-S1 has a large 3.0″ titling LCD display with a Monitor Sunlight Mode that allows users to review their images in bright sunlight.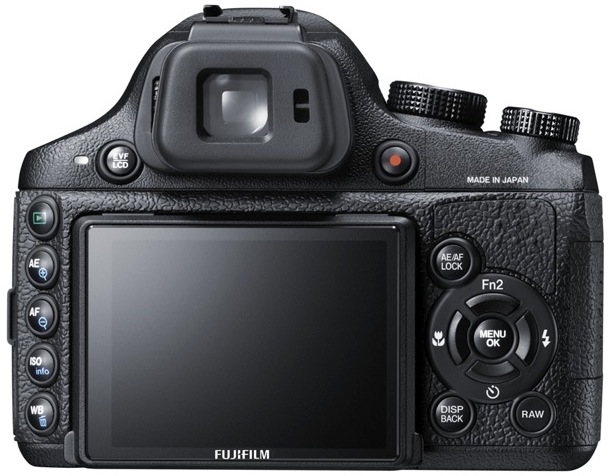 The well-balanced X-S1 also features an enhanced, full-body, rubberized grain texture coating that adds superior grip, a hot shoe mount to add additional accessories, full 1080p HD movie capture and milled mode and adjustment dials for exceptional feel and functionality.
The FUJIFILM X-S1 features Fujifilm's Intelligent Digital Zoom which effectively doubles the telephoto capabilities and provides up to an amazing 52x total zoom, and a Super Macro Mode that captures images as close as 1cm.
Images Worthy of the X-Series Designation
The FujiFilm X-S1 features the same large 2/3-inch 12MP EXR-CMOS sensor as the FujiFilm X10 to ensure high quality images regardless of the lighting conditions. The unique EXR-CMOS technology, pioneered by Fujifilm, allows the user to switch between three modes depending on the lighting conditions — or leave the camera to make its own choice in the EXR Auto Mode.
Switching between the modes changes the performance of the sensor. The High Resolution option is perfect in bright conditions or when the very best picture quality is the primary aim. Wide Dynamic Range mode can be used in scenes of high contrast when the user wants to get details in both shadow and highlight areas of an image, while the High Sensitivity & Low Noise option should be selected for optimum results in low light conditions.
Coupled to the EXR-CMOS sensor is the high speed EXR processor, which offers a minimal shutter lag of just 0.01 seconds and a high speed continuous shooting capability of 7fps at full resolution (Large JPEG) or 10fps at six megapixel resolution (Medium JPEG).
Extraordinary versatility
At the heart of the FujiFilm X-S1 is the FUJINON 26x optical precision zoom lens that offers a focal range of 24-624mm with its bright and fast f/2.8 maximum aperture at the wide-angle zoom setting.
The X-S1 FUJINON lens delivers images with superb edge-to-edge sharpness and amazing clarity. The lens construction is of the highest standard, featuring metal cams for smooth zoom control and fast, precise framing.
The FujiFilm X-S1 is also ideally suited for capturing subjects close up. In standard Macro mode, the zoom focuses as close as 7cm, but by selecting Super Macro Mode, users can focus as close as 1cm for frame-filling close-up images. Furthermore, the lens' aperture is made up of nine blades for excellent "bokeh" effect photography.
Full Manual Controls for Maximum Flexibility
Photographers who prefer full manual controls will enjoy the flexibility of the X-S1 with its full range of conventional shooting functions (program/shutter-priority/ aperture-priority/manual).
The extensive external controls give the more advanced photographer direct access to virtually every control they will need for uninterrupted shooting, and the specially designed chassis includes dedicated command buttons for quick and easy key functions such as ISO, white balance, focus and metering.
The large command dial, manual focus ring, twist and zoom lens barrel, bright, clear electronic viewfinder, high quality tilting LCD screen and deep hand grip ensures the camera handles well. Additionally, the X-S1 provides four auto bracketing options, eight Film Simulation and white balance functions and Raw file shooting capabilities.
For simplicity, the X-S1 automatically assesses the subject and then selects the relevant scene mode for the perfect result, automatically switching the EXR-CMOS sensor accordingly. Not only does it determine the type of scene being photographed, it can also calculate whether an image contains a person, features backlighting or has any subject movement. ISO settings are adjusted by the Auto ISO mode, which selects the optimum setting between ISO 100 and 3200. Those after more ISO flexibility can manually select up to ISO 12800 (Small JPEG format only).
HD Movie Capture and High Speed Movies
The FujiFilm X-S1 captures full 1080p High Definition (1920 x 1080 pixels) movie with stereo sound at 30fps, which is saved in the H.264 format profile compression for smaller file sizes without sacrificing quality. With a mini-HDMI output connector, it is easy to connect and view images on your HDTV (HDMI cable not included). Versatility is further increased thanks to the High Speed Movie options, which include capture at an incredible 320fps. With features like this, even the fastest moving subjects can be captured and watched in slow motion.
RAW / RAW+JPEG Shooting
The X-S1 has the ability to shoot both a RAW and JPEG shot simultaneously. RAW is for ultimate quality shots via post processing, JPEG is for great quality with no need for further post-production work.
Motion Panorama 360°
The FujiFilm X-S1 delivers exquisite panoramas by allowing its sensor to extend the sweep range to 360° (shots can also be taken vertically). Combined with high quality Fujifilm printing, sweeping and impressive scenes can be taken, showing fine detail, low noise and high resolution at 180°, 240° or full 360° panoramic ranges.
Clear Viewing and Reviewing for Ideal Results
The FujiFilm X-S1 offers a powerful combination of a high quality electronic viewfinder and a tilting LCD screen to ensure composing and viewing images is quick and simple, regardless of the lighting conditions.
The 0.47-inch electronic viewfinder (EVF) features 1.4 million pixel resolution for superb image clarity and has a wide viewing area of 26 degrees for better image framing. The bright EVF makes it easy to check settings or adjust focus manually.
The large, tilting 3″ LCD features 460,000 pixel resolution making it easy for users to scroll through menus, assess exposure accuracy and view images. The LCD also offers a useful Sunlight mode that allows for easy viewing in even the brightest locations.
Features:
Large 2/3-inch 12-megapixel EXR-CMOS sensor
High quality FUJINON 26x optical precision zoom 24-624mm (35mm equivalent) with Intelligent Digital Zoom boosting focal range up to 52x and Optical Image Stabilization
Superb build quality and finish with rubberized coating and metal dials
Up to 10fps continuous shooting
Large tilting 3″ 460,000 pixel resolution LCD screen with Sunlight mode
Large EVF with 1.4 million pixel resolution and 26 degree viewing angle
Full 1080p HD movie with stereo sound
Super Macro focusing as close as 1cm
Raw and jpeg shooting
Film simulation modes
Program / Shutter-Priority / Aperture-Priority / Manual modes
Lithium Ion rechargeable battery providing up to 500 shots per charge
360° Motion Panorama mode
Pricing and Availability
The FujiFilm X-S1 will be available in January 2012 for $799.95.
See more about: Newest Digital Cameras, FujiFilm Digital Cameras