Pioneering Digital "3D System" That Lets You Enjoy Incredible 3D Images With The Naked Eye
Fujifilm is extremely proud to announce the launch of a groundbreaking new imaging technology: the "FinePix REAL 3D System". The world's first three dimensional (3D) digital imaging system that lets you enjoy three dimensional images without the need to wear special 3D glasses. The FinePix REAL 3D system incorporates a 3D digital camera "FinePix REAL 3D W1", a 3D digital viewer "FinePix REAL 3D V1", and 3D prints.
As a pioneer in the digital imaging sector, in 2009, Fujifilm will be able to offer the complete 3D package: from digital photography, to digital prints. Fujifilm is once again breaking new ground and continuing to raise expectations in the development of new imaging products.
Aiming to "capture precious moments just as your eyes see it", over the last decade Fujifilm has developed unique lenses, CCDs and Processors, amongst other key digital camera technologies. This year heralds the launch of the world's first digital camera that can capture 3D stills and movies, the "FinePix REAL 3D W1", and the "Fine Pix REAL 3D V1", an 8-inch viewer on which spectacular 3D images can be displayed. Additionally, with advances in high precision production technology, Fujifilm has successfully developed a 3D Print service enabling you to print and keep your 3D images, as never before.
World's first digital camera to capture realistic 3D stills and movies.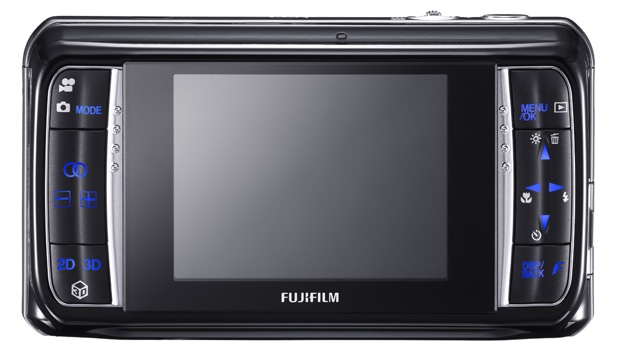 3D Photography – Welcome to the world of 3D
The REAL 3D W1 camera features the newly developed "FinePix REAL 3D Lens System." To achieve a natural, 3D image, it was necessary to flawlessly layer together two images, so two Fujinon lenses, renowned for their high resolution and exquisite rendering, were installed. A robust aluminum die-cast frame has been used to protect the lenses from vibration and impact. A 3x optical zoom, deemed difficult to achieve in 3D photography because of the precision required to align two lenses, is also possible. Moreover, the "RP (Real Photo) Processor 3D" which is based on photo technology that Fujifilm has developed over the years, synchronizes data passed to it by the two lenses and two CCD sensors, to determine shooting conditions such as focus, brightness and tonality to instantaneously blend this information into a single symmetrical image, for both stills and movies. The 3D/2D LCD monitor features Fujifilm's own LCD panel, exclusively for the display of 3D/2D images on digital cameras, allowing you to see beautiful, natural 3D images with the naked eye. As the camera performs a series of image processing steps automatically, anyone can take 3D stills and movies with superb picture quality by just pointing the camera and pressing the shutter button.
Advanced 3D Mode – function for 3D experts
The FinePix REAL 3D W1 allows you to adjust the settings to suit the scene being photographed. When using the Individual Shutter 3D Shooting mode, the camera shifts to take the second shot after taking the first shot, and saves a single 3D image in the camera manually. This allows you to edit the 3D images, particularly useful for landscape photography where a 3D image is difficult to achieve, or conversely, macro shots, where the 3D effect can be too strong.
"Interval 3D Shooting" mode allows further flexibility; it is possible to take two shots from different viewpoints continuously while the photographer is moving, for example by train, airplane, or car, etc., to achieve 3D images of long-distance views. Users can enjoy more dynamic 3D shots, whether they are capturing a sea of clouds from an airplane, or taking 3D shots of distant views from a car window. By using the "Parallax Control (3D Tuning Function)", the 3D images can be manually adjusted for a clear and sharper 3D view for the best view for each person. Adjustable in both live images on LCD while shooting and recorded images; this simplicity-of-use lets users really get creative when shooting in 3D!
2D photography – Powerful 2D still functions
Don't overlook the fact that this camera also brings fun new possibilities in 2D photography! You can really take advantage of the fact that this is actually two digital cameras in one. The "Advanced 2D Mode" lets users take two different shots simultaneously by pressing the shutter once. With "Tele/Wide Simultaneous Shooting", it is possible to take a close-up photo of the subject and, at the same time, a photo with a wider span – just by changing the settings of the two lenses. Achieving zoom and wide angle photography with single press of shutter. With "2-Color Simultaneous Shooting" mode, users can take photos of the same scene with different color tonalities, for example, "Standard" and "Fujichrome", by changing the processing signals on the two sensors. Able to achieve 2 different images with different color tonality. At the same time, 13 types of scene position are featured to enjoy various shooting styles that can be used both in 2D and 3D shooting.
"2-Sensitivity Simultaneous Shooting" mode enables you to change the sensitivity setting of the two shooting systems, which expands the range of photographic expression. In scenes where it is difficult to determine the optimal camera settings, users can take shots with picture stabilization priority and then with picture quality priority and choose the best image later, or change the picture stabilization levels to take two different shots simultaneously.
A beautiful, cutting-edge exterior design that is durable yet easy to use.
You can't deny this is a good-looking camera, with cutting-edge style. The sleek sliding barrier which protects the two lenses is specially formed so that it can be firmly gripped with both hands. The exterior finish is a luxurious Piano Black finish with a superb, high-gloss, elegant shine. To add to the glamour, the neon blue "3D" logo illuminates when the camera is switched on. On the back of the camera, operating buttons such as the one-touch 3D/2D switch button, are placed on both sides of the camera for simple operation using both hands. The newly developed 2.8-inch 3D LCD monitor displays natural and beautiful 2D and 3D images, enabling you to compose and playback your pictures easily.
Main Features
Capture and enjoy realistic 3D stills and movies
Take 3D telephoto and macro shots with Advanced 3D Mode
Standard 2D photographs can also be taken, just like conventional digital cameras
Advanced 2D Mode lets you simultaneously take two shots at different settings
Featuring the 3D LCD system, allowing 3D images to be viewed live whilst shooting
Cutting edge design and the very latest, pioneering technology
8.0 inch 3D digital viewer that allows you to enjoy 3D images on a high resolution screen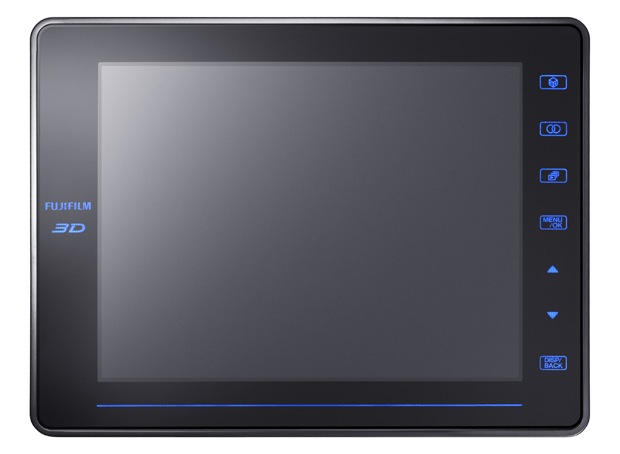 FinePix REAL 3D V1
The 3D digital viewer "FinePix REAL 3D V1" features Fujifilm's newly developed 3D/2D display 8.0-inch LCD panel, which allows users to enjoy and playback 3D images without needing to wear special 3D glasses. Insert a SD memory card which 3D images have been saved, and enjoy a 3D slideshow just by switching on the power. If the "Parallax Control" is used, you can adjust the 3D effect on the viewer manually.
The 3D digital viewer will suit any living room with its slim & minimalistic design. With various playback functions, you can enjoy various 3D and 2D slideshows, plus a Micro Thumbnail View, and an easy-to-use "Image Search" feature.
With an adjustable stand you can change the angle for clearer 3D viewing, and enjoy simple operation with the intuitive remote control included. The viewer can read and display image data stored on memory cards. It can also receive image data via high-speed Ir Communication. Users can also directly connect it to their personal computer via USB and transfer stored images to the viewer for display.
Key Features
Supports playback of natural 3D stills and movies
3D/2D LCD panel (400 x 600 x 2 channel)
Easy-to-use touch operation
PLUS, print your 3D images with high precision Fujifilm technology!
With spectacular results, Fujifilm has integrated high precision prints, with lenticular sheets, resulting in the ability to produce high resolution 3D images. The process involves the 3D image data being integrated using highly advanced technology and projected through a lenticular sheet lens to produce an image with binocular disparity. This then creates a very special 3D print with incredible detail and beauty, keeping precious moments alive forever.