Redesigned J-Series Body Style at Affordable Price Points
FUJIFILM North America Corporation just announced the introduction of four new models in its ultra-compact J-Series family of digital cameras. Ranging from $129.95 to $249.95 in price and all HD movie capable, the FinePix JV100, JX250, JZ300 and JZ500 offer consumers the most complete choice yet in a series of compact digital cameras and provide them with the perfect fit for their individual budget and feature set needs.
FinePix JV100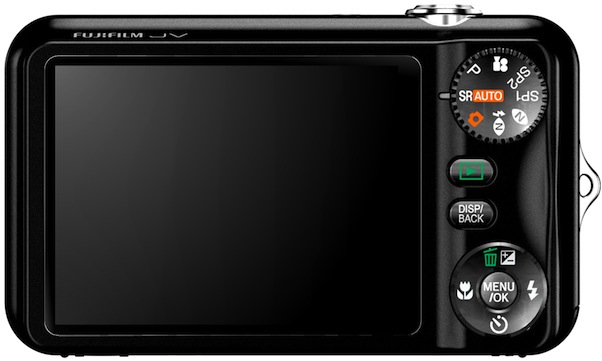 FinePix JV100
The FinePix JV100 has a 12-MegaPixel CCD, a 2.7″ High-Resolution LCD and a Fujinon 3x optical zoom lens. The FinePix JX250 employs a 14-Megapixel CCD, a 2.7″ High-Resolution LCD and a Fujinon 5x wide angle (28mm-140mm) optical zoom lens. The FinePix JZ300 has a 12-MegaPixel CCD, a 2.7″ High-Resolution LCD and steps up with a huge Fujinon 10x Wide-Angle optical zoom lens (28mm-280mm equivalent) and the FinePix JZ500 rounds out the series with a 14-Megapixel CCD, a 2.7″ High-Resolution LCD and a Fujinon 10x Wide-Angle optical zoom Lens (28mm-280mm equivalent).
"With an overwhelming consumer response to the first few generations of J-Series cameras, we wanted to give our customers an even greater range of options when it comes to price point and feature set," said David Troy, marketing manager, Consumer Digital Cameras, Electronic Imaging Division, FUJIFILM North America Corporation. "With the J-Series new line, there is now an ultra-compact model for every budget and feature need — even with long zoom capabilities."

FinePix JX250
New Look
The shell of each J-Series model has been upgraded to a high-quality metal and its soft, curved edges give it a sculpted, sophisticated look. Encased in a high-grade brushed metal body, they are not only well protected from bumps and scrapes, but give a simple, yet elegant design. The FinePix JV100 and JX250 have had their overall thickness reduced to a tiny 18.5mm1. The JV100 will be available in black or blue, and the JX250 will come in black. The FinePix JZ300 and JZ500 come in at 22.0mm1. The JZ300 and will be available in black or silver, and the JZ500 will come in black. All four models have also added a new mode dial for additional convenience and functionality.

FinePix JZ300

FinePix JZ300
HD Capability (all models)
The new J-Series models all offer stunning movies in 720p with sound and high quality stills at 1920 x 1080. Many consumers are happy to enjoy HD movies on their PC, but with the new HD Player (optional extra), which comes equipped with a remote control, families can gather around their home HDTV to enjoy amazingly detailed stills and high resolution movie playback.
Tracking Auto Focus (all models)
Previously featured on Fujifilm's D-SLR styled FinePix S1500, the new J-Series models feature Tracking Auto Focus which is perfect for when you need to take a picture of a moving subject and can't keep your subject in the frame. Just switch Tracking Auto Focus on and it will track your subject and ensure that you achieve a crisp picture with you subject in the center of the frame in perfect focus.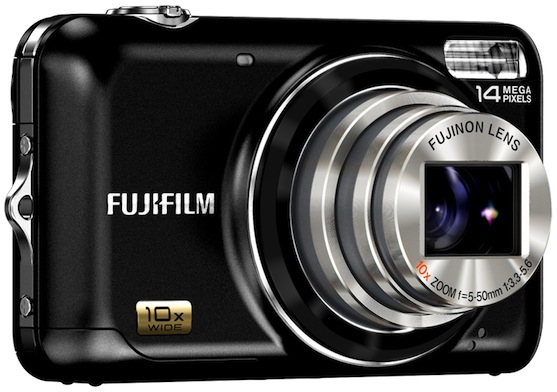 FinePix JZ500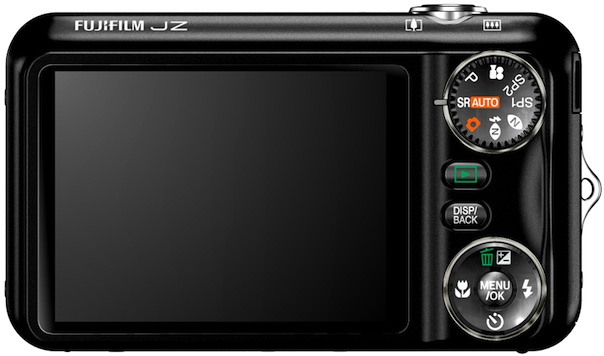 FinePix JZ500
Face Recognition Technology (JZ500 only)
For the first time on a Fujifilm digital camera you can identify the people in a picture by name! Fujifilm's Face Recognition Technology gives you the ability to pre-program 8 people into the camera. To do this, you start by taking a picture of the person you want to program into the camera and then tell the camera who that person is (e.g. Mom). You also have the option of inputting the category she belongs to (e.g. friends/family) and the date of her birthday. The next time you go to take a photo of her, the camera will cleverly recognize "Mom" and optimize the settings to ensure that exposure and focus are best suited to her rather than the other people in the picture. This fun technology can recognize up to 5 pre-programmed people on screen at the same time.
In addition, the FinePix JZ500's new Picture Search Tool is able to use the Face Recognition data (name, birthday and category) to help you find and playback your photographs quickly and easily. If you want to scroll through all pictures featuring "Mom" for example, the camera will be able to select them for you for easy viewing.
Smile & Blink Detection (JV100 & JX250 only)
Photos are all too often spoiled by people blinking or grimacing. Smile Detection works with Fujifilm's highly-acclaimed Face Detection technology to detect smiles on faces: it will not take a picture until it detects a smile, so you're guaranteed happy shots! Another new feature is Blink Detection which warns you if you have captured an image with people blinking, so you can re-shoot if necessary.
Pet Detection (JZ500 only)
For those who enjoy the company of four-legged friends, the FinePix JZ500 comes equipped with Fujifilm's brand new Pet Detection technology, allowing users the ability to detect up to 10 faces of dogs or cats and automatically optimize the focus. The FinePix JZ500 is programmed to recognize 57% of the Federation Cyno Logique Internationale (FCI) registered dogs, 80% of the Top 20 Dogs in the American Kennel Club (AKC) Ranking and 60% of The Cat Fancier's Association (CFA) breeds2. Pet Detection works by matching various dog or cat data of facial parts with patterns to detect the dog or cat being photographed.
The FinePix JV100, JX250, JZ300 and JZ500 also offer these additional features:
Scene Recognition Auto (SR AUTO) (all models): This mode intelligently detects the scene type you are shooting and optimizes the camera's focus, exposure and white balance, so whether you're photographing flowers or a holiday landscape, you will get flawless photos at the press of a button.
Digital Image Stabilization (JV100 and JX250): Digital Image Stabilization reduces image blur automatically and offers creative adaptability and excellent picture quality.
Dual Image Stabilization (JZ300 and JZ500): Long-zoom cameras need stabilization more than any other compact, with handshake and subject movement a particular problem in low light at telephoto range. The FinePix JZ300 and JZ500 reduce blur to a minimum by deploying Picture Stabilization to automatically increase shutter speeds to freeze action, and mechanical CCD sensor shift stabilization to counteract the problems of handshake. By cleverly combining these two, blur is reduced to an absolute minimum.

| | | |
| --- | --- | --- |
| Model | Availability | MSRP |
| FinePix JV100 | February 2010 | $129.95 |
| FinePix JZ300 | February 2010 | $199.95 |
| FinePix JZ500 | March 2010 | $249.95 |
| FinePix JX250 | April 2010 | $159.95 |

Face Detection and Automatic Red-eye Removal (all models): To provide perfectly exposed and focused portrait shots, each J-Series model is fitted with Fujifilm's latest Face Detection technology which is able to track up to 10 faces simultaneously, at almost any angle to the camera. The system instantly corrects red-eye and then saves both the original and the corrected image file automatically.
Reviews Around the Web:

fujifilm finepix jv100