3 oz. camcorder is the ultimate accessory for the social networking generation
Pure Digital Technologies today introduced Flip Video Mino, the company's latest innovation in its popular, critically-acclaimed Flip Video family of camcorders. Weighing in at just over three ounces, the remarkably slim yet powerful Flip Video Mino raises the bar for high-quality, portable, and easy-to-use video. Smaller than most cell phones, Mino fits neatly into a jeans pocket to capture life's stories whenever and wherever they happen — at a party, a concert, the beach, even on a bike ride. The $179.99 (MSRP) Mino also features Flip Video's built-in software that allows consumers to simply plug the camcorder's signature flip-out USB arm into any computer for immediate editing and sharing. For the first time, the Flip Video software enables users to upload video directly to MySpace as well as to YouTube and AOL Video, making it even easier to share video.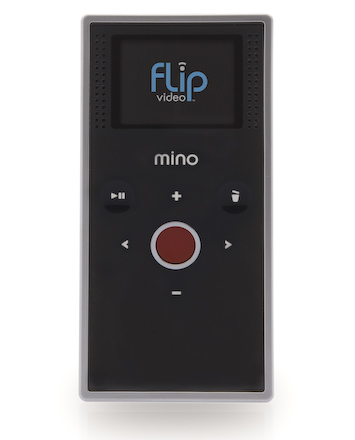 "Flip Video Mino delivers the perfect combination of high-quality video, sleek design, and ease of use," said Jonathan Kaplan, CEO of Pure Digital Technologies. "For the millions who share their lives online every day, it's more than a camcorder — it's a fun tool for communicating and creatively expressing themselves."
With 2GB of on-board flash memory, Mino allows consumers to capture up to 60 minutes of high-quality video using the camcorder's intuitive new touch-sensitive buttons to record, play, fast forward, rewind, pause and delete. Users can instantly play back video on the camcorder's 1.5-inch anti-glare LCD display. Mino uses an internal, rechargeable lithium-ion battery that conveniently recharges whenever the camcorder's USB arm is connected to a computer and provides more than four hours of recording time on a single charge.
Using Mino's built-in software, consumers are able to edit and share videos instantly from a PC or Mac. In addition to quickly posting videos on sharing and social networking sites, they can email videos and video greeting cards; create custom movies with their own music; capture still photos from video; save and organize videos on the computer; and, for the first time, seamlessly order and send DVDs anywhere in the world.
"Video is a major part of the MySpace experience and the Mino's portable design means MySpace users can capture their life as it happens," said Josh Brooks, vice president of marketing for MySpace. "We are excited to partner with Flip Video to make it easier than ever for MySpace users to directly upload and share content on MySpaceTV."
Flip Video Mino Features
Weight: 3.3 oz.
One-touch recording with 2x digital zoom
Touch-sensitive buttons for instant recording, playback, fast forward, rewind, pause and delete
Built-in software compatible with PC or Mac:
Instant upload to MySpace, YouTube, and AOL Video
One-click emailing of videos and video greeting cards
Custom editing of movie mixes, with the option to set them to your own music
Capture of still photos from video
Order DVDs online and have them shipped anywhere in the world
TV connection for instant viewing (cable included)
Tripod mount
Available accessories (sold separately): AC power adapter, tripod, action mount, and pouch
At retailers nationwide including: Amazon.com, Bestbuy.com, Circuit City, Sears, Walmart.com, and TheFlip.com
Available in black or white; suggested retail price: $179.99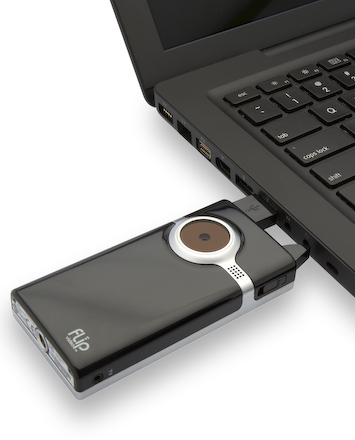 About Pure Digital Technologies, Inc.
Based in San Francisco, Pure Digital Technologies is a pioneer in developing simple, affordable digital imaging solutions for the mass market. Its revolutionary Flip Video family of camcorders ignited a new category of video cameras that puts the power to shoot and share video into the pockets of everyday consumers. Flip Video camcorders are the world's first with on-board software to enable editing, organizing, and seamless video uploading to YouTube, MySpace, AOL Video and other video sharing sites. As part of its Flip Video Spotlight Program, the company pledged to deliver 1 million camcorders to help non-profits use the power of video to change the world. Flip Video is available in over 10,000 retail locations including Amazon, Best Buy, Circuit City, Wal-Mart, Sam's Club, Sears, Kmart, and TheFlip.com. For more information, visit http://www.TheFlip.com,
Reviews Around the Web:

flip video mino