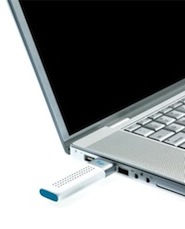 Creates an Easy Way to Watch and Share Flip Videos on TVs Everywhere
The makers of the acclaimed Flip Video family of camcorders, recently acquired by Cisco, announced a brand new innovation in home video sharing called FlipShare TV (model CTV1W). An industry first, FlipShare TV brings the user's entire Flip Video library of photos and videos into the family room and onto the TV screen without wires, and lets them share video instantly with other FlipShare TV owners. FlipShare TV extends the Flip Video product family by making it even easier for Flip users to enjoy and share video with friends and family anywhere.
"We're bringing back the home movie night," said Jonathan Kaplan, senior vice president and general manager, Cisco consumer products group. "There's now a simple and affordable solution to view and share photos and videos on any TV."
Like all Flip Video products, setting up and using FlipShare TV is simple. The small FlipShare TV base connects to the TV via the included composite cables or an HDMI cable, and the FlipShare TV USB key plugs into a USB port on a PC or Mac. The USB key and console are preconfigured to function wirelessly so the Flip videos stored on the computer can be instantly viewed on the TV with no need for a wireless home network. Using the included wireless remote, the user can easily click through the intuitive TV interface to watch their favorite videos, custom movies, or photos and watch them in full HD.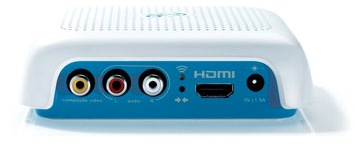 FlipShare TV is designed to work with FlipShare 5.0, the new software from Flip Video that provides an easy way to organize, edit, and share favorite video moments online and through mobile phones. The new FlipShare TV takes sharing one step further by providing a simple way for users to display videos in full glory on their television, or share them with others on their TVs. With FlipShare TV, a user can also watch video shared by other Flip Video users on their own TV. FlipShare TV automatically accesses video shared through Flip Channels™, presenting them for users to watch directly through the simple FlipShare TV interface.
The Perfect Gift for Far-Away Family and Friends
FlipShare TV is a great new way to share videos with loved ones anywhere. A Flip user can simply set up Flip Channels within FlipShare and choose the friends and family they want to be able to watch. Whenever they add new content to a Flip Channel, everyone included in that channel can view it instantly. So now, grandparents can simply turn on the TV and watch the latest Flip video of their grandchildren, or siblings living far away can share video to each other's TVs with ease.

FlipShare TV Features:
Watch FlipShare video and photo library instantly on the TV
View any shared Flip Channel videos on the TV
Share Video with anyone else who has a FlipShare TV
FlipShare TV Includes: TV Base, USB Key, and Remote

TV Base Console: 4.6 x 4.6 x 1.3 inches / 4.6 oz
Remote Control: 3.9 x 1.6 x .04 inches/ 1.3 oz
USB Key: 3.5 x 1.0 x 0.5 inches / 0.6 oz

Wireless: 802.11n point-to-point proprietary interface (does not require a home wireless network)
Batteries: 2 x AAA for remote (included)
Composite cable included
Pricing and Availability
MSRP: $149.99
Availability: Amazon, BestBuy.com, Target.com, Wal-Mart.com, and the official Flip Store at theflip.com