Automotive and Golf Handheld GPS with Portable Media Player
Expresso Satellite Navigation, Ltd. announced the release of the AG1, the world's first portable navigation device featuring automotive and golf GPS in addition to a fully functional Portable Media Player. The AG1 has created an entirely new category of portable navigation products
Expresso's Patented 5-Way Mounting Capability
Partnering with NAVIGON and iGolf, two well-established brands in the GPS marketplace, the Expresso AG1 delivers an exciting array of cutting-edge features including: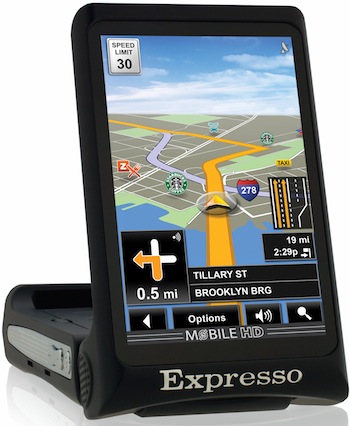 NAVIGON turn-byturn directions on the road
iGolf rangefinder
portable media player
wide Mobile HD touch screen
dual stereo speakers
automatic portrait and landscape switching
dual SD card slots
articulating screen
533 MHz Samsung Processor
5-way mounting capabilities
"With collaborations between multiple GPS industry-leaders along with thousands of hours spent in intensive R&D, Expresso is excited that the AG1 has created an entirely new category of portable navigation products," said Mike Aroney, Managing Director of Expresso Satellite Navigation, Ltd. "With a unique patented form factor that is truly portable coupled with the functionality of a golf rangefinder, an automotive GPS, and a portable media player all-in-one, our goal was to create a very light pocketsized device with numerous built-in mounting capabilities and a battery capacity of over 500 miles of navigation."

NAVIGON and iGolf Parterships
Responsible for the automotive navigation portion of the device, NAVIGON has contributed their award winning easy to use GPS software, allowing for an unrivaled assortment of features combined with North America's leading map database from NAVTEQ. In charge of the golf course rangefinder included in the Expresso AG1, iGolf is a pioneer in the golf GPS industry, with a database of more than 33,000 courses worldwide and gorgeous full color course displays that have been relied upon by golfers worldwide since 2003.
The unified vehicle mounting system incorporated into the AG1 eliminates the need for bulky accessories such as bean bag dash mounts and suction cup windshield mounts that can create unsightly blind spots. Feel comfortable knowing you can mount the AG1 safely in most vehicles and be on the road in less than 5 seconds, and you are legal in all 50 US states including California and Minnesota.
MSRP: $249 +$34.99/year membership (check price)
See product comparison chart (pdf)
About Expresso
Expresso Satellite Navigation, Ltd. Is the world's first maker of portable GPS Navigation devices created specifically for the "active lifestyle" consumer. With a product lineup consisting entirely of Multi-Use and Crossover Navigation Devices (CND's), Expresso has employed a team of more than 50 top-level engineers to create an entirely new category of GPS products. In addition to utilizing the industry's most award winning automotive navigation software, Expresso has partnered with a number of leading developers in outdoor navigation and multimedia.