PowerLite Home Cinema 700 Offers Affordable Home Entertainment Experience for Gaming, Movies and More, Under $800
Expanding its leadership in the front projector market to the entry-level audio video consumer, Epson today announced the feature-rich, value-priced PowerLite Home Cinema 700. The latest in Epson's line of 3LCD home theater projectors, the Home Cinema 700 offers 720p high definition resolution, high brightness and superior image quality for only $799, delivering an amazing and affordable home entertainment experience to a new range of consumers.
As the number-one selling projector brand worldwide1, Epson has packed the Home Cinema 700 with a wide variety of consumer-friendly features and benefits, making home theater projection simple and easy for first time buyers or do-it-yourself AV enthusiasts. Featuring industry-leading 3LCD technology for brilliant high-definition widescreen images and video with amazing detail and no possibility of color break-up or distracting "rainbow effect," the Home Cinema 700 offers movie theater-like images with up to 2,000 lumens of brightness, seven pre-set color modes and HDMI connectivity.
"Epson's commitment to high-quality home entertainment is reflected in our continued expansion into new home theater markets at a variety of different price points," said Marge Ang, senior product manager, Epson America. "The Home Cinema 700 delivers outstanding performance and quality for an amazing big screen experience at a tremendous value, making it an ideal solution for first-time home entertainment consumers and DIYers."
Additional features of the Home Cinema 700 benefitting today's general AV consumers and do-it-yourself markets include:
3LCD technology for incredible color, amazing detail and road-tested reliability with no possibility of color break-up or distracting "rainbow effect"
Movie theater-like image with up to 2,000 lumens of white and color light output for brightness levels that are among the highest in this home theater category
Easy set-up and installation with the Epson Universal Mount and 1.2x optical zoom
Instant On, Instant Off technology allows for no waiting time to start or shut-down projector
Widescreen capability with 720p performance
Share photos and slideshows on the big screen via the USB 2.0 connection or SD card slot
Epson E-TORL Lamp engineered to project light more efficiently, maximizing brightness across the entire screen and extending lamp life up to 4,000 hours
High energy efficiency with long-life E-TORL lamp and low power consumption
Versatile connectivity with Component Video, S-Video, HDMI, and USB Type A and B digital connections
Sleek, compact white design allows projector to blend in with most ceiling decor
Availability and Support
The Epson Home Cinema 700 is available in October through authorized Epson projector dealers and retail outlets for an estimated street price of $799. The projector also comes with Epson's award-winning service and support, including a two-year limited warranty with toll-free access to PrivateLine, Epson's priority technical support, and free overnight exchange with Extra CareSM Home Service.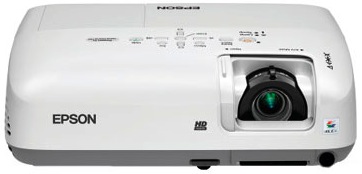 About 3LCD Technology
3LCD is the world's leading projection technology, delivering unbelievably bright and natural color, amazing detail and road-tested reliability. Using an advanced, 3-chip optical engine, 3LCD offers amazing color for brilliant quality images without the possibility of color break-up. 3LCD is based on LCD technology, which is used by leading manufacturers worldwide for the ultimate viewing experience in flat panel TVs and projectors. To find out why more users choose 3LCD than all other projection technologies combined and to get the latest list of leading companies offering 3LCD technology in their products, visit the 3LCD website at http://www.3LCD.com.
About Epson America Inc.
Epson offers an extensive array of award-winning image capture and image output products for the consumer, business, photography, and graphic arts markets. The company is also a leading supplier of value-added point-of-sale (POS) printers and transaction terminals for the retail market. Founded in 1975, Epson America Inc. is the U.S. affiliate of Japan-based Seiko Epson Corporation, a global manufacturer and supplier of high-quality technology products that meet customer demands for increased functionality, compactness, systems integration and energy efficiency. Epson America Inc. is headquartered in Long Beach, Calif.
1 Based upon Q2 2008 worldwide front projection market share estimates from Pacific Media Associates