New Tethering Feature via USB Syncs Photos from DSLR Cameras For Instant Viewing or Backup
Epson America announced new tethering capabilities for its award-winning line of multimedia photo viewers — the Epson P-6000 and P-7000. This new photo viewer feature, exclusive to Epson, allows photographers to instantly view and save images to the viewer as they are shot, streamlining the process of creating backup files and evaluating images in studio or on location.
"The new tethering feature in the Epson P-6000 and P-7000 Photo Viewers can dramatically enhance the workflow of any photographer, and is yet another demonstration of our commitment to developing products that meet the needs of the professional photography marketplace," said Rick Day, senior product manager, Epson America. "Whether working in their studios or in the most remote of locations, an Epson photo viewer is a must-have tool for backing-up and viewing images without a computer."

As photographers shoot tethered, connecting a DSLR camera to the Epson P-6000 or P-7000 photo viewer via a USB cable, the image is automatically saved onto the camera's memory card while a backup copy is also saved to the viewer hard drive. Tethering enables photographers to preview images immediately on the viewers' high resolution, 4-inch color-accurate LCD, allowing confirmation and adjustments to be made on the spot. This latest firmware also includes a remote shutter release function for added convenience.
The new Epson P-6000 and P-7000 Multimedia Photo Viewer tethering feature will be available in late-October as a free download on Epson.com and is compatible with select Nikon and Canon DSLRs. A full list of compatible cameras for tethering is available online. The Epson P-6000 and P-7000 are available at specialty photo stores, online retailers and Epson's retail Web site for an estimated street price of $599.99 and $799.99, respectively.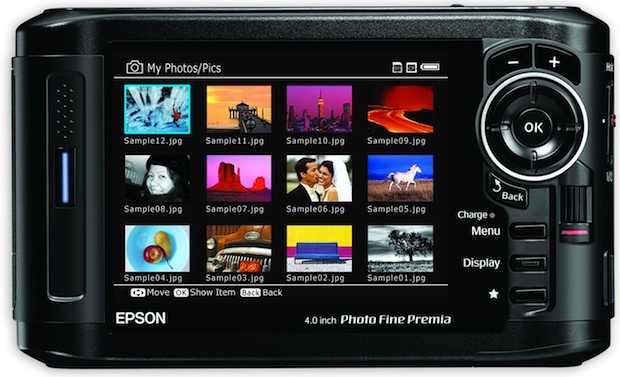 Epson P-6000 and P-7000 Multimedia Viewers
Epson multimedia photo viewers are ideal companions for the digital SLR. Epson's exclusive Photo Fine LCD technology has advanced to a new benchmark in screen quality with Photo Fine Premia which encompasses 94 percent of Adobe RGB color space for superior color accuracy. With 80GB (P-6000) and 160GB (P-7000) hard drive capacities, thousands of RAW image files can be backed up wherever images are captured for peace of mind and security. Other features include:
Large 4-inch LCD with exclusive Epson Photo Fine Premia technology displays over 16.7 million colors
Convenient jog dial to quickly scroll through images
Wide LCD viewing angle
Zoom function to confirm image focus and fine detail
RAW and JPEG file support
Built-in CompactFlash and Secure Digital memory card slots with many other cards supported via third-party adapter
Compatible with high-speed UDMA CompactFlash cards
Rechargeable lithium-ion battery lasts up to three hours for extended shoots
High-speed USB 2.0 interface for device to device backup
Audio/video output to present customized slideshows
Travel Pack with dual battery charger, car adapter and more (P-7000 only)