Elgato released a dual network tuner that allows users to watch HDTV wirelessly on either a Mac or PC. HDHomeRun connects to a TV antenna or digital cable and wirelessly streams live television in full HD to any Mac or PC in the house.
Powered by technology from SiliconDust, Elgato's HDHomeRun is a network dual tuner for HDTV. The tuner works seamlessly on multiple computers. One person can watch and record TV on a Mac, and at the same time a second person can watch and record a different channel on a PC. HDHomeRun connects to your existing TV antenna or cable TV outlet, and to your router via Ethernet. This allows the device to remain concealed in a discreet location away from your computers. Once connected to your Wi-Fi network, users can watch live TV wirelessly on a portable computer or iPad, anywhere inside the house.
HDHomeRun comes with EyeTV 3, the award-winning TV software for Mac. Watch, pause, and rewind live TV on your Mac. Search the Program Guide, record TV shows, and export recordings to iTunes automatically for playback on an iPhone or iPad. HDHomeRun is compatible for use on a PC; it works great with Windows 7 Media Center.

Elgato's HDHomeRun solution paired with the EyeTV app enables streaming of live and recorded TV to an iPhone, iPod, and iPad via 3G. However, this is only available when using a Mac and is not available for PC.
Price and Availability
HDHomeRun is currently available from the Elgato Store, Amazon, B&H Photo and the Apple Store at a price of $179.95.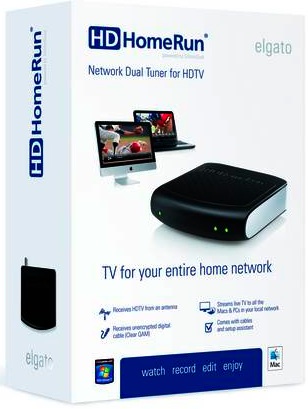 What's in the Box
HDHomeRun Network Dual Tuner for HDTV
EyeTV 3 software for Mac (CD-ROM)
Driver for Microsoft Windows 7 Media Center (CD-ROM)
Ethernet cable
Power Supply
PDF Product Manual (CD-ROM)
Quick Start Guide
System Requirements
Macintosh: Intel Core 2 Duo CPU, Mac OS X v10.5.8 or later
PC: Windows 7, 2.0 GHz Intel Core 2 Duo/AMD CPU
1 GB RAM
Home network with 100Base-T Ethernet (802.11n 5GHz for wireless)