Stylish 19-Tube Preamp Ingeniously Lets Users Select Input Tubes For Each Audio Source; Only One in the World to Do So
Einstein Audio Components, a leading German designer and manufacturer of premium audio components, introduces into the U.S. market The Tube MKII Balanced Audio Preamplifier at the 2010 International Consumer Electronics Show, beginning in January.
The Tube MKII represents a new concept employing proprietary new ideas and circuitry that help it stand apart from other preamplifiers. Fully balanced, it features a true dual-differential dual-mono design. It's lifelike presentation is clear, musical, and filled with the details that help listeners capture the spirit of musical performances, and experience music as artists intend it to be experienced.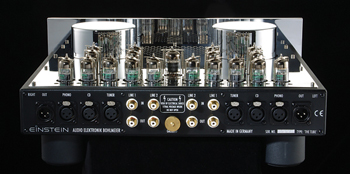 The Tube is an exceptionally quiet and neutral-sounding preamplifier capable of ultra-quiet operation, explosive dynamics and fast transients. Part of its secret is an unusually large complement of tubes — 18 E88CC/6922 dual triode tubes and one ECC82 dual triode. Ingeniously, only 10 of the 6922 tubes operate at any given time, eight for power and two for whichever audio source happens to be playing.
When the audio source is switched, the tubes for that source power down while two other tubes for the new source power up, an arrangement that conserves tube life for sources not in use. This feature also makes The Tube MKII the only preamp in the world that allows users to tailor the sound from each audio source by selecting the specific input tubes dedicated to each source.
The Tube MKII boasts a volume control outside the signal path, an ultra-low 50-ohm output impedance, short signal paths with point-to-point wiring, wide bandwidth circuitry, an S/N ratio under 95dB, a total harmonic distortion (THD) less than 0.05 percent at 1.5 Volts RMS, and a 98 db
channel separation.
The 33-pound chassis includes two large dials on the front, one for source selection and one for volume; and on the rear, three balanced inputs, two single-ended inputs, and two tape outputs. The Tube MKII also includes a remote control.
The Tube MKII is available now from authorized dealers at a suggested price of $17,800 (U.S. MSRP). It can be seen with other outstanding Aaudio Imports products at the Venetian Hotel, Suites 30-116, 30-118 and 30-120 during CES.

About Einstein
Einstein Audio Components, based in Germany, is a designer and manufacturer of audio components — including tube amplifiers, a tube CD player, and phono stages and cartridges — acclaimed for their sonic simplicity and aesthetic elegance.