8.4-inch Android Tablet Features Wi-Fi, Borders eBook Store and Multimedia Functions
E FUN has introduced the Next3 Tablet, with built-in e-reader, Android 2.1 and Wi-Fi. Built-in Wi-Fi (802.11 b/g) convenience allows users to browse the Internet, receive and answer e-mails, watch YouTube videos, listen to Internet music providers and get real-time weather reports. Turning pages and choosing applications is as easy as lifting a finger with the touch-screen feature. Additional functions include a calculator, clock, and alarm.
The Next3 features Google's powerful Android 2.1 operating system. It has a large 8.4″ TFT color display, built-in speakers, 2GB flash memory with an SD card slot to increase storage capacity, and an MP3/photo viewer. For added fun, third-party applications are available. An elegant, removable case with magnetic closure provides protection.
The Borders eBook store is preloaded on every Nextbook making it easy to purchase and download favorite titles. Next3 users can choose from over one-million titles, many of which are free, including new releases and the latest bestsellers as well as biography, fiction, romance, etc., right from the comfort of their own home. 'Shopping' for an e-book is like shopping for a printed book, except the book is delivered instantly to the Next3 unit.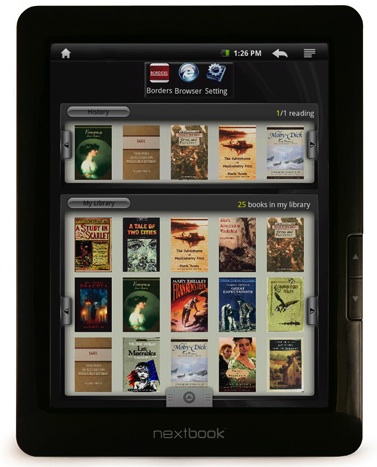 Accessories include an AC adapter, USB cable and protective pouch. The Next3 is compatible with Windows2000/XP/Vista/Windows 7, Linux and MAC OS.
Price and Availability
The E FUN Next3 tablet e-reader is available now for $229.99.
Reviews Around the Web:

e fun next3