The DXG-517V is a 720p high-definition camcorder that records video up to 1280 x 720 at 30fps. The DXG-517V captures still pictures with a resolution of up to 8-megapixels and functions as a digital voice recorder.
Compact and portable, the DXG-517V features an HDMI output to easily connect the unit to your HDTV or plasma, a 2.5″ LCD screen and supports high-capacity SD cards. It comes with a free HDMI cable and ArcSoft TotalMedia™ Extreme software (a $119.99 retail value).
Specifications
Capture in High-Definition
Records HD video up to 1280 x 720 at 30fps
H.264, MOV file format
Takes JPEG still pictures, up to 8MP image resolution
Digital voice recording funtion
Large 2.5″ TFT display
Watch in High-Definition
Vibrant, crisp and colorful videos
Perfect for your plasma or HDTV
HDMI output
Share in High-Definition
Connect to your PC via USB 2.0 interface
Upload videos to the internet easily
Supports high-capacity SD cards
Includes ArcSoft TotalMedia Extreme software
Package includes:
1 DXG-517V
4 x AAA alkaline batteries
USB/AV Cable
Carrying Case
Manual and Quick Start Guide
CD-Rom (for software and drivers)
Pricing and Availability
The DXG-517V HD camcorder is available online today for under $100 in silver or white.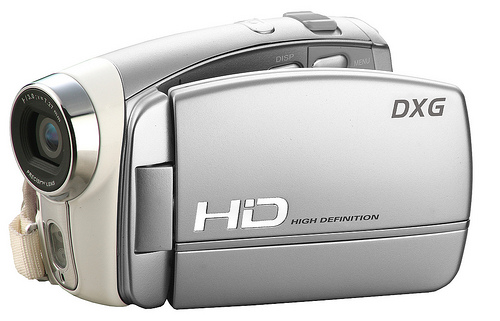 About DXG USA
DXG USA, The Digital Camera Company, is one of the fastest growing digital camera manufacturers in the U.S., providing intuitively designed digital cameras and camcorders for the youth and mainstream markets. Compact, fashionable and affordably priced, DXG digital cameras are setting trends for quality and utility. DXG USA is a fully owned subsidiary of DXG Technology Corp., one of the world's leading manufacturers and designers (OEM/ODM) of digital cameras and camcorders. DXG Technology has won numerous design and innovation awards and employs more than 4,000 people worldwide.