Dual XR4110
Dual's 2010 Product Lineup of Receivers Feature Advanced Functionalities and an Amplified Bandpass Enclosure
Dual Electronics announced the release of their 2010 lineup of seven receivers – from advanced multimedia to iTunes tagging HD Radios and mechless head units. Each product provides a multitude of features with the latest in iPod and iPhone functionality, iTunes tagging, hands free Bluetooth capabilities and user convenience. Six of the receivers (XDVDN9131, XHD6430, XDMA6330BT, XDMA6355, XD6150 and the XR4110) offer front panel 3.5mm aux input which makes direct iPod connection effortless with no additional cost.

Dual XD6150
"Dual is well placed to develop leading-edge products with high feature content and solid performance. This new line up brings consumers and retailers compelling, differentiated and industry leading products with the latest connectivity and expansion," said Clyde Podraza, President Dual Consumer Division.
For audio enthusiasts who want their receivers to play more than just CD's, Dual has the products to satisfy their needs. Starting with the XML8110 ($179.99), glimpse into the future with Dual's 240-watt MOSFET powered mechless receiver with in-dash docking station for iPods and iPhones. With a flip of the front panel the adjustable dock fits iPods and iPhones (except Shuffle). This advanced technology is complemented with Bluetooth ready capabilities and a steering wheel interface input. Stay tuned for upcoming accessories and app store applications. The XR4110 ($79.99) offers three front panel inputs for a variety of communication devices. Toss your CDs aside, as the portable convenience of a USB port and SD card slot allows playback of MP3 or WMA files while the 3.5mm auxiliary input gives a universal connection for MP3 players.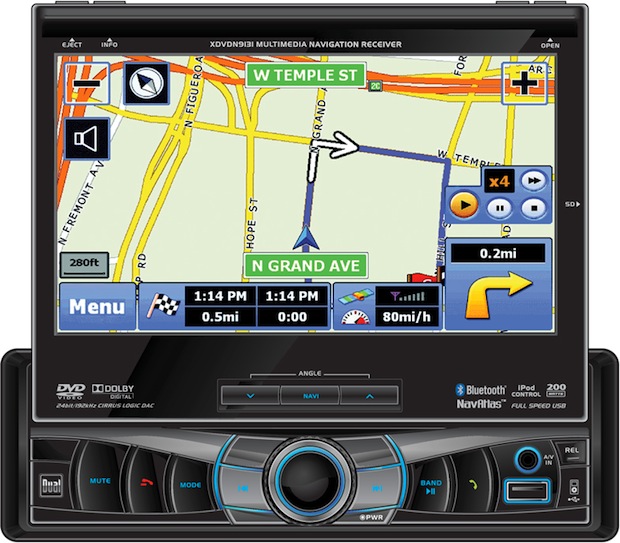 Dual XDVDN9131
Dual's flagship multimedia/navigation receiver XDVDN9131 ($699.99) offers a rich feature set for a great value. The easy-to-use 7″ TFT LCD touch screen single DIN includes integrated navigation, DVD/USB/SD/Bluetooth and iPod control. A built-in SD card reader plays your favorite MP3/WMA files and the receiver displays your iPod playlists, artists, albums and songs. Utilize the handsfree calling, watch videos while your iPod charges or use the Navigation software with over 2 million points of interest and high quality text-to-speech (TTS) to announce street names. Enhance your driving experience with Dual's all-in-one XDVDN9131.
Dual XHD6430
Your favorite music will never be forgotten when using the iTunes' Tagging feature on Dual's AM/FM/HD/CD/MP3/WMA XHD6430 receiver ($159.99). Tagging enables consumers using HD Radio to "tag" songs that they hear on the radio for preview and purchase on iTunes. The direct USB iPod control, Bluetooth ready, CD, MP3/WMA playback, wireless remote and steering wheel interface adds up to one of the strongest feature packages available.
Dual's latest 200-watt AM/FM/CD/MP3/WMA receivers – XDMA6330BT ($139.99) and XDMA6355 ($119.99) offer Bluetooth capabilities supporting hands-free and streaming audio with playback controls to focus on driver safety. Sit back and enjoy the convenience of a front panel direct USB iPod connection, wireless remote control and steering wheel interface input and enhance your listening experience with the MOSFET powered amplifier. The XDMA6330BT includes the Bluetooth module (BTM60); the BTM60 can be added separately to the XDMA6355. For those interested in an AM/FM/CD receiver at a value with iPod connectivity, Dual offers the XD6150 ($99.99). The XD6150 features a USB charging port, front-panel 3.5mm auxiliary input, wireless remote control and a detachable face.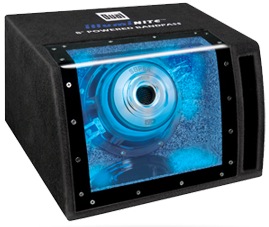 For the auto sound enthusiast, Dual is also offering the SBP8A 8-inch; powered bandpass enclosure ($179.99) is an easy-add-on to existing systems, offering big bass performance with a small footprint. With 160-watts of peak power, the performance-matched integrated amplifier is "plug-and-play," and includes ATCS – advanced temperature control system, built-in electronic crossover and adjustable phase control. With a full-view acrylic window, the unique bandpass design includes Illuminite cool blue LED illumination for a stunning visual effect at night.
"Overall, these products are getting great reception from retail buyers," said Podraza. "Each provides easy and convenient features that enhance user lifestyle, music enjoyment and communication. And that's what our customers expect from Dual and why they seek out our unique offerings."