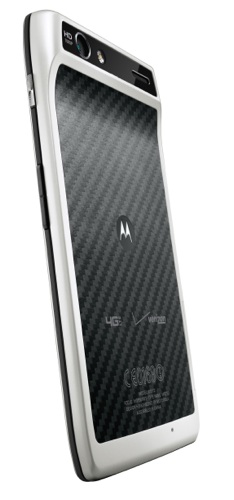 Verizon Wireless announced a white version of the Motorola DROID RAZR 4G LTE Smartphone, both of which will be software upgradable to the Android 4.0 Ice Cream Sandwich operation system. Standout features include a 4.3-inch Super AMOLED Advanced display with KEVLAR fiber and Corning Gorilla Glass screen protected in a splash-guard coating.
The ultra-thin DROID RAZR measures 7.1mm thick, but packs a lot of power with a dual-core 1.2 GHz processor, 8-megapixel camera, 32GB storage with a claim of 12.5 hours of talk time. In addition, MotoCast, the free Motorola app, allows you to stream or download your music, pics and more from your PC to your phone. Plus, 4G LTE download speeds makes your e-mail, web pages and videos appear to load even faster.
Price and Availability
DROID RAZR in white will be available in Verizon Wireless Communications Stores and online at www.verizonwireless.com this month for $299.99 with a new two-year customer agreement. Customers that purchase a DROID RAZR will need to subscribe to a Verizon Wireless Nationwide Talk plan beginning at $39.99 monthly access and a smartphone data package starting at $30 monthly access for 2 GB of data.
Special promotion:
Customers will receive $100 off a DROID XYBOARD tablet and $50 off select Motorola accessories for a limited time when a customer purchases a DROID RAZR by Motorola with a new two-year customer agreement.
See more about: New Smartphones, Motorola Smartphones, 4G LTE Smartphones