Denon High-Performance AVR-1312 Receiver Paired with Powerful Boston Acoustics 5.1-Channel Speaker System; Easy Operation, Graphical User Interface, Advanced Audio Decoding and More
Denon today announced the DHT-1312BA Home Theater System, a powerful turnkey solution for enjoying a room-filling surrond sound experience to enhance the enjoyment of movies, music and games — right out of the box. The DHT-1312BA system combines Denon's new high performance AVR-1312 A/V receiver with a powerful Boston Acoustics MCS 160 5.1-channel surround sound loudspeaker system.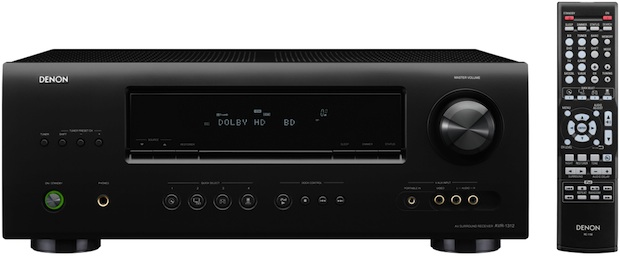 Precision-Matched Components; Advanced Denon A/V Receiver
Denon is committed to ensuring that its customers have all the solutions they need for creating precisely the kind of home entertainment system geared to their lifestyle needs. For many people, this boils down to two words — simplicty and performance. The DHT-1312BA's precison-matched components deliver just that, with immersive, room-filling audio. The receiver features four HDMI inputs (1.4a repeater function with 1080p and 3D pass-through capability). It also features high-resolution surround sound decoders including Dolby TrueHD/ DTS-HD Master audio support for decoding the multi-channel recordings featured on Blu-ray and HD-DVD discs. The receiver's 24-bit/192-kHz DACs ensure pure audio reprouction, with stunning delivery of today's most advanced high-definition audio programming.
Powerful Boston Acoustics Speaker Package
The system's five-channel discrete power amplifier is rated at 110 watts per channel, ideally suited for the Boston Acoustics speaker package, which includes four matching satellite speakers featuring 3″ mid-bass drivers and 1/2″ dome tweeters, as well as a matching center channel speaker featuring dual 3″ drivers and a 1/2' soft dome tweeter. All five speakers can be bookshelf or table-top mounted, and have a special integrated "keyhole" bracket for wall-mounting. Completing the audio experience, the 100-watt subwoofer features a long-throw, Deep Channel Design 8″ woofer for deep low frequency response.
Total Ease of Setup
Adding to its simplicity and ease-of-use, the system features an updated graphical user interface (GUI) or On-Screen Display that make the steps of system setup, operation and displaying other important information much easier for the end user. Notably, the new on-screen display (OSD) or GUI overlay via the HDMI connection eliminates the frustrating necessity of additional cable switching or programming interruptions when making adjustments, such as volume, while watching HD content. Further enhancing ease-of-use, the receiver features Source/Quick Select Power On and Quick Select options on the front panel and remote control to give end users one button source, surround mode selection.

Finally, thanks to the system's dedicated Denon dock control port for iPod, users may connect and control their iPod/iPod Touch or iPhone using one of Denon's available iPod/iPhone docks, which provides on-screen artist, album and song information. Additionally, a dedicated analog mini-jack on the front panel allows users to connect any portable music device.
Price and Availability
The Denon DHT-1312BA Home Theater System is expected to be available in May 2011 for $599.99.