Dell unveiled the Dell Studio XPS™ 16 and Dell Studio XPS 13 laptops — the first Studio laptops to bear the XPS high-performance designation. Fresh out of Dell's innovative industrial design labs these premium laptops combine state-of-the-art technology and elegant design to delight discerning followers of fashion and technology enthusiasts alike. Both the Dell Studio XPS 16 and Dell Studio XPS 13 feature beautifully crafted genuine leather and anodized aluminum accents on top of a high-gloss Obsidian Black finish.
The Dell Studio XPS 16 and Dell Studio XPS 13 laptops are available now on www.dell.com/studioXPS starting at $1,199.
Dell's new Studio XPS laptops embody its focus on design leadership. These premium products feature a stunning design that combines beautiful genuine leather and anodized aluminum accents with a high-gloss Obsidian Black finish. Custom ports, slot-load DVD drive, and edge-to-edge display complement the sleek, streamlined look.
The XPS Flagship: Dell Studio XPS 16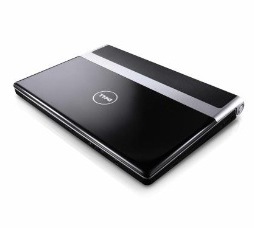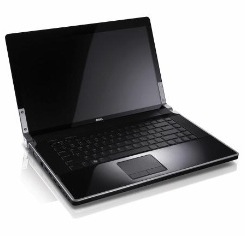 Blending power with elegance, the Studio XPS 16 delivers advanced performance and entertainment capabilities, including 16-inch edge-to-edge 16:9 HD WLED display and 7-watt Dolby 5.1 audio with subwoofer, Intel Centrino 2, and 512 MB ATI Mobility Radeon™ HD 3670 graphics.1
For true cinemaphiles and amateur photographers, the optional Full HD 1080p display (RGB LED) is optimized for 16:9 content and features 100 percent color gamut for truer colors combined with 300 nit brightness to help ensure brilliant color and detail to create a truly enhanced entertainment experience. The 8 millisecond response time means smoother gaming and movie viewing, and the 130 degree viewing angle ensures that multiple people can view the display together without distortion.
Petite yet Powerful: Dell Studio XPS 13 laptop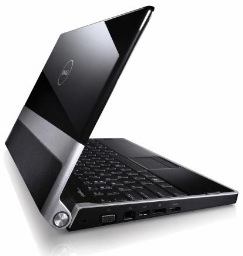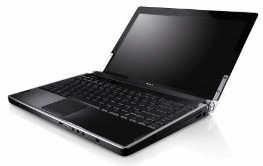 Epitomizing beauty and elegance that are more than skin deep, the Studio XPS 13 is a distinctly powerful laptop with a starting weight just under five pounds.2
The Studio XPS 13 offers digital nomads the choice of conserving battery life or boosting performance with the optional NVIDIA GeForce 9500M GE with Hybrid SLI technology. Similar to a hybrid car, users can choose to boost performance for playing games or watching high definition videos by enabling a discrete graphics processor and graphics memory, or can extend battery life by switching to the integrated graphics solution, better for E-mail, surfing the Internet, and listening to music.
Studio XPS laptops combine high-power performance and state-of-the-art features to enhance the overall experience and keep users ahead of the curve, including:
High Definition upconversion so that standard DVDs view more like HD.
2.0 megapixel webcam with digital array microphones and facial recognition security capability.
Backlit keyboard and capacitive touch multimedia controls.
USB PowerShare to charge peripherals even when the system is off.
Full range of ports and connection options, including HDMI, DisplayPort, IEEE 1394a and eSata.
WiMax and GPS ready.
1 Significant system memory may be allocated to support graphics, depending on system memory size and other factors.
2 Starting weight of 4.90 lbs. (2.2 kg) with WLED display, 6 cell battery, DVD +/-RW. Weights will vary depending on configurations and manufacturing variability.