Alienware Aurora and Aurora ALX
The Aurora is the most upgradeable and the Aurora ALX is the most powerful MicroATX desktops Alienware has ever created. Featuring the latest Intel Core™ i7 processors, including an optional Extreme Edition overclocked to 3.6GHz, the Aurora line of desktops are designed to deliver the power needed for hardcore gaming, pro-level HD audio and video editing, 3D animation and more. To crank up your gaming performance, Aurora and Aurora ALX have options for dual 1GB ATI Radeon HD 5870 graphics cards, up to 24GB DDR3 1333MHz memory or 12GB DDR3 1600MHz memory, respectively, and up to 2TB of hard drive storage — all in a compact, MicroATX chassis for taking up less desk space. Prices start at $1,299.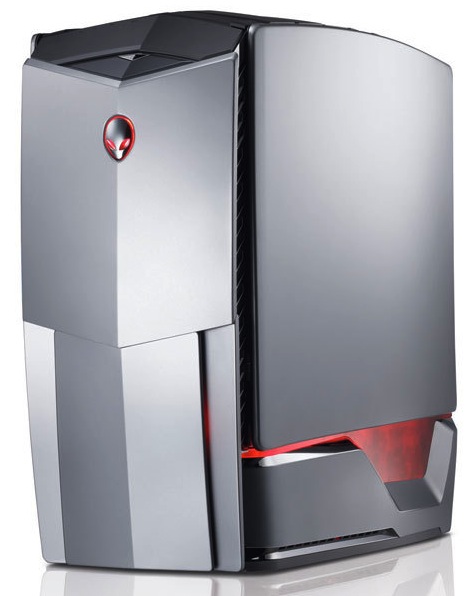 Alienware Area-51 and Area-51 ALX
Designed for extreme gamers and tech enthusiasts who demand only the latest, most advanced equipment, the Area-51 line of desktops features Intel Core i7 processors factory overclocked to an intense 3.86GHz for peak performance. To max out your graphics benchmarks, these systems offer the quad-GPU power of dual NVIDIA GeForce GTX 295 graphics cards. Other featured specs include up to 12GB DDR3 memory clocked at 1333MHz or 1600MHz, respectively, and six easy-access, cable-free hard drive bays that support both 7,200RPM and 10,000RPM drives, solid state drives and RAID 0, RAID 1 and RAID 10 configurations. Prices begin at $1,999.
The ALX brand denotes a distinguished class of Alienware systems that deliver both unique designs and peak performance. Both Aurora ALX and Area-51 ALX offer technology options beyond their respective standard editions, allowing for higher benchmarks, extended future-proofing and all-around increased bragging rights. Aurora ALX features design elements not available on Aurora such as the Active Venting louver system, internal theater lighting and cable-free hard drive bays. Area-51 ALX ups the ante with an anodized aluminum body and motorized front panel. All Alienware desktops also offer CPU liquid cooling right out of the box which allows the ease of overclocking that deliver extreme computing.
Dell Alienware Area-51 Reviews
From Critics Around the Web