Newest Ferrari Art.Engine, Art.Suono and Art.Solista, All with Exclusive DWC-Aphex Technology, Deliver Luxury, Style, Performance
The David Wiener Collection (DWC), a luxury line of audio, entertainment, furnishing and fashion offerings has launched a full line of luxurious home and office music systems equipped with exclusive music-enhancing and wireless transmission software during CEDIA EXPO '09.
Elevating audio system design to new levels of performance, execution and style, the DW Collection's extraordinary fusion of technology and art delivers exceptional sonic clarity, imaging, dynamics, spaciousness and realism. The Collection's offerings include the new DWC Ferrari Art.Engine Powered Speaker System, the award-winning Art.Suono Wireless Music Transmission System, and the Art.Solista USB Wireless Transmission System.
All luxury pieces are equipped with the Collection's DWC-Aphex Audio Enhancement Technology, licensed exclusively to DWC and employed for the first time ever in consumer audio products. Developed in collaboration with Aphex Systems, Ltd, a world leader in the professional audio field for over 30 years, DWC-Aphex brings life back to music files, improves intelligibility and reproduces the musical experience as the original artists intended.
The circuitry restores musical harmonics, renders vocals, drums, pianos, guitars, and all instruments more distinct and detailed, and increases stereo imaging to create a more spacious and realistic performance. Bass frequencies are richer, deeper and more resonant, low-fidelity audio systems are more convincing, and full-range systems are little short of amazing.
The incredibly popular Ferrari Art.Engine System has been upgraded for 2009, displaying DWC's commitment to constant improvement. Inspired by Ferrari design and dedication to quality, the Art.Engine System is presented as a bi-amplified stereo system in a single floorstanding aluminum tower featuring twin integrated line-source speakers, four 200-watt discrete digital amplifier modules, DSP signal management, and a digital wireless receiver.
The new Art.Engine System is now a two-piece system that includes the Art.Suono transmission dock as well as the exciting DWC-Aphex music enhancement circuitry, and exclusive DWC-Wireless™ Zero-Drop transmission technology that enables listeners to "beam" music from an iPod or iPhone, a PC, a Mac, a CD player, satellite radio and any other audio source directly to the Art.Engine tower. The Art.Engine System is available for a suggested price of $20,000 (US MSRP).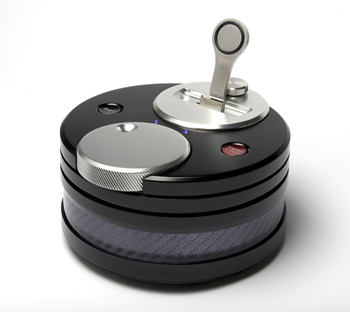 The Art.Suono Wireless Music Transmission System is the only audio enhancing, two-way wireless transmission system on the market. With inputs for computer audio, a CD player, MP3s, satellite radio, as well as an iPod/iPhone dock, the Art.Suono gives users the freedom and flexibility to play any audio source wirelessly to any stereo or powered speaker system, while bringing compressed music files back to life.
An elegant sculpture of machined aluminum with carbon fiber accents and fine detailing, the Art.Suono transmission dock comes with a compact receiver that easily connects to any speaker system. The system is highlighted with the exclusive DWC-Aphex music enhancement technology that makes recorded music more "alive" by restoring lost harmonics, providing an incredible sense of spaciousness and clarity so that each instrument and voice is more distinct. The Art.Suono is available for a suggested price of $1,399 (US MSRP).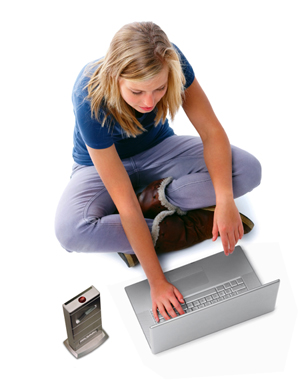 The compact Art.Solista USB Wireless Transmission System simplifies wireless audio transmissions from computers. Equipped with DWC-Aphex and DWC-Wireless, DWC's proprietary and exclusive audio enhancement and wireless technologies, the Art.Solista allows users to wirelessly stream any audio from their computers to any stereo system, A/V or Home Theater system, or powered speaker simply by plugging the Art.Solista transmitter into the computer's USB port. At the same time, it improves the sound of digital music files, making the audio sound better than ever and improving the intelligibility of speech on news and talk programs, podcasts and audio books. The Art.Solista is available for a suggested price of $999 (US MSRP).
DW Collection products are available now to select Resellers and online at www.dwcollection.com. They can be seen at Suite 1710, The Atlantic at Atlantic Station, 270 17th Street, during CEDIA. During the show, DWC National Sales Manager Kent Dimon can be reached at 404-213-9455 for transportation services.
About DWC
DWC is a design and innovation studio that creates some of the world's most exclusive and prestigious products. DWC products exhibit extraordinary, uncompromised performance, styling, materials and craftsmanship. The company is relentless in its pursuit of superior products and groundbreaking technologies.
Founded to create advanced vehicles, products, furniture and fashion, DWC prides itself on a unique operational model, based on experience with Formula One teams, that inspires its staff to optimize performance, style, operations, image and success.
DWC has worked with many of the world's great brands, including Ferrari, the U.S. Ski Team, Columbia, Cannondale, Ben & Jerry's, Nike, Ganassi IndyCar, Hollywood, TWR, Old Navy, Bloomingdales and many others. DWV programs have also been sponsored by such highly regarded companies as Adidas, Campagnolo, AMF, DuPont, Fischer, Salomon, Revo, and Vuarnet. In addition, DWC's work has been featured in major media worldwide, as well as on a PBS-TV documentary about David Wiener.
DWC's Park City, Utah, design facility and Salt Lake City-based Technology Center exhibit DWC's culture with Ferrari and other F1 cars on display.