Android-based All-in-One Entertainment Device for E-Books, Video, Audio, Wi-Fi and More
Cydle is ready to launch a 7-inch M7 MultiPAD with Android OS, seamlessly integrates capabilities such as E-book, Video playback, and an assortment of multimedia features. It is estimated to be released November 2010 in the United States, Europe and Korea simultaneously.
Though the Cydle brand is an unfamiliar household name, along with Google and Apple, Cydle had been nominated and listed as finalists in the After Market category of the United States "Telemetrics Award 2010" for Cydle's innovative HD Traffic Update for the GPS navigation technology.
The M7's seven inch screen is conveniently bigger in screen size compared to a Smartphone, but weighs less than a netbook, which makes it highly portable for enjoyment of the rich multimedia features packed into the M7.
The most eye-catching feature of the M7 is the unique detachable stand. Currently pending a global patent, this versatile stand was specially constructed with the user's convenience in mind. MID (Mobile Internet Device) users commonly lay these mobile devices on flat surfaces, such as desk or tabletop, or held by hand. The detachable stand will mount onto the M7 for a sturdy yet comfortable viewing and hands-free operation. The detachable stand can also be used as a Screen Cover when collapsed, to protect the screen when mobile.
The M7 works like a PMP where it will support almost all video codecs without any conversion, to comfortably play all multimedia files via SD memory card.
The M7 has incorporated a Gravity Sensor that will easily change your viewing layout by supporting both horizontal and vertical views. The horizontal layout is preferable to view the screen much like a book.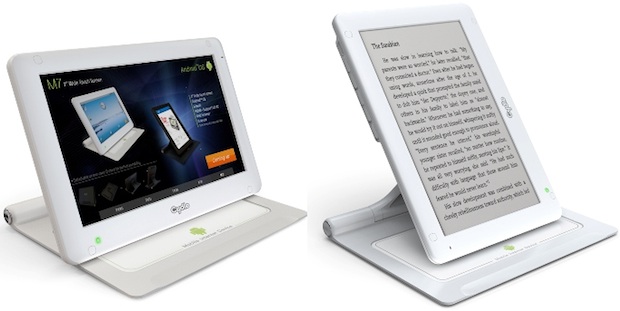 The M7's serves as an ideal size as an E-book, therefore Cydle has pre-loaded the Aldiko application that is packed with more than 120,000 book titles to choose and read on the Multi PAD. Users will also be able to view PDF, TXT, and other document files just as easily.
The HDMI feature clearly shows that the M7 can replace the functions of a home video player, PMP, and DVD player.
The Cydle App Square, destination for applications and movie downloads, will be opened and continuously updated for our Cydle M7 users.
The M7 is expected to carry a more attractive retail price, compared to the existing Smart Phones and PMP's, and looking forward to see how the market will be impacted.
Reviews Around the Web:

cydle m7