Offers High-End Features at Value Price
Cricket Communications, Inc., a leading provider of unlimited wireless services and a wholly-owned subsidiary of Leap Wireless International, Inc., today announced the availability of Cricket TXTM8, ("text mate") the latest in the expansion of QWERTY devices offered by the company. The TXTM8 was developed for Cricket by Personal Communications Devices LLC (PCD).
The Cricket TXTM8 was built for text and picture messaging, and is ideal for keeping connected with friends and family through social networks, email and Mobile Web. Cricket MyHomeScreen provides access to news, sports, entertainment and weather at users' fingertips. A vertical slide opens to reveal a QWERTY keypad beneath the 2.2″ TFT color display. The phone also features a 1.3MP camera with zoom, an MP3 player, microSD memory card slot, voice recognition, and stereo Bluetooth, as well as tri-band connectivity. Personalization is easy with an on-device storefront for ringtones, ringback tones, graphics and games & applications.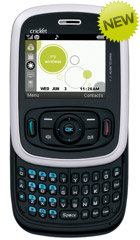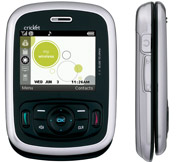 "Cricket customers text twice as much as most cell phone users. In fact, 52% send at least one text message per day, compared to the industry average of 33%. Cricket TXTM8 is perfect for heavy texters, with a full range of high-end features, but at a value price," said Matt Stoiber, vice president and general manager of devices for Cricket. "It provides a stylish form factor with powerful functionality. Staying connected is easy with the TXTM8."
"As texting becomes part of our everyday lives — some would say it's a vital form of communication — having a device that allows for quick and easy communication is a must. The TXTM8's trendy design, unique form and perfect size that fits in the palm of your hand, is sure to please Cricket customers," said Phillip Christopher, president of Personal Communications Devices.
The Cricket TXTM8 is available now at Cricket retail stores and dealers for $159.99.
About Cricket
Cricket is the pioneer of simple and affordable unlimited wireless services with no long-term commitments or credit checks required serving more than four million customers in 35 states. Cricket offers wireless voice and broadband Internet services over the latest technology, high-quality, all-digital 3G CDMA2000 1X and 1xEV-DO wireless network. Cricket's wireless voice service plans include unlimited anytime minutes, unlimited U.S. long distance, unlimited text and picture messaging, unlimited text to Mexico, unlimited Mobile Web, unlimited directory assistance, as well as a variety of calling features and feature-rich mobile applications such as popular games, ringtones and wallpapers. Cricket Broadband provides unlimited Internet access anywhere within Cricket's coverage areas at speeds comparable to DSL. For more information on Cricket, visit www.mycricket.com. Cricket is offered by Leap Wireless International, Inc., headquartered in San Diego, Calif.