Cresyn introduced the C510E dual-chamber, semi-open back, half in-ear headphones offering a comfortable fit, wide frequency response and a supremely rich, open sound at an affordable price point.
The Cresyn C510E features a unique dual-chamber construction with a semi-open back, tuning the sound to extend the frequency response in a similar fashion to a vented speaker cabinet. Output from the rear of the driver is channelled through the main chamber and a further sub-chamber, with controlled output through a mesh panel at the back of each earpiece. Specially optimized dampers are positioned strategically throughout, further tuning the driver's output.
Most in-ear headphones are sealed at the rear and like all closed-back designs they can suffer from internal reflections that colour the sound. The C510E's dual-chamber, strategically damped, semi-open back construction serves to extend the bass response, minimise internal reflections and tune the sound to ensure optimal balance throughout a wide frequency range: deep, rich bass; smooth, expressive midrange; crisp, detailed treble.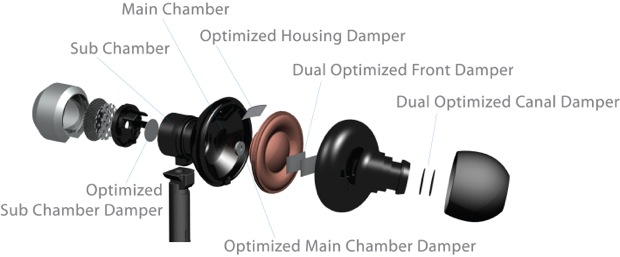 Photo: Exploded diagram showing the Cresyn C510E's dual-chamber construction
Comfortable Half In-Ear Design
The C510E also sports Cresyn's half in-ear design. Typical in-ear (ear canal) headphones deliver high levels of noise isolation, discrete style, excellent portability and a secure fit, but some people find them uncomfortable to wear in comparison to on-ear designs, particularly over long periods. Cresyn's ingenious half in-ear concept is intended to give the best of both worlds — a compact design that fits snugly just outside the ear canal, intruding less within the ear and ensuring high levels of comfort during even the lengthiest of listening sessions.
Excellent Build Quality
Build quality is excellent throughout, with aluminium housings for high durability and smart styling. Soft silicon ear tips are provided in four different sizes, together with a pair of Comply T-400 memory foam tips, thus ensuring a snug, comfortable fit for every listener. A soft, protective carrying pouch is also supplied.
Superb Sound
The C510E delivers a spacious, full-scale sound that's hugely enjoyable with a wide range of music and comfortable over long listening periods. Given their high-quality construction and innovative design, perhaps the most surprising thing about these half in-ear headphones is the price.
Specifications
Type: Half in-ear headphones
Construction: Dual-chamber, semi-open back
Driver Size: 14.3mm
Impedance: 32 Ohms
Sensitivity: 101dB
Frequency Range: 15Hz-20kHz
Max Input Power: 40mW
Cord Length: 1.2m
Jack: 3.5mm
Weight: 6.8g (without cord)
Supplied Accessories
Four sets of silicon ear tips; one set of Comply T-400 memory foam ear tips; carrying pouch
Price and Availability
The Cresyn C510E is distributed in the UK exclusively by iHeadphones and is available now for £29.99.
See more about:
Newest Headphones
Headphone Reviews
Daily Headphone Deals