Creative Technology announced the Creative Sound Blaster X-Fi Surround 5.1 Pro and the Creative Sound Blaster X-Fi Go! Pro, two new USB audio solutions featuring THX TruStudio Pro audio technology which allow users to easily enhance their onboard audio for notebook or desktop PCs. The Creative Sound Blaster X-Fi Surround 5.1 Pro offers maximum entertainment for the home in true 5.1 surround sound, while the Creative Sound Blaster X-Fi Go! Pro enables the best listening experience on the go.
Creative Sound Blaster X-Fi Surround 5.1 Pro
The Creative Sound Blaster X-Fi Surround 5.1 Pro connects to a desktop or notebook PC via USB to upgrade it to a THX TruStudio Pro entertainment system with 5.1 surround sound. Features include:
High-quality, gold-plated RCA stereo and optical digital out for 24-bit/96kHz playback performance when connected to the PC via USB 2.0
Recording capability up to 24-bit/96kHz
Dolby Digital Live! with a single cable connection to a decoder or home theatre system for compelling 5.1 surround sound from any source
Cyberlink PowerDVD software (free download) with DTS and Dolby Digital-EX decoding delivers a cinematic DVD movie experience
Compact IR remote controls mute, volume and playback
Microphone and headphone jacks
XP, Vista and Windows 7 compliant
Creative Sound Blaster X-Fi Go! Pro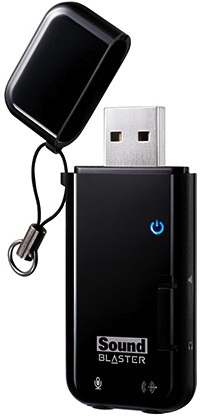 The most portable Sound Blaster, this USB solution is only about the size of a thumb drive so users can easily take it with them to experience THX TruStudio Pro audio technology at home or on the go. Features include:
The performance of a Sound Blaster sound card in a USB thumb drive format
3.5mm stereo jack for microphone-in
3.5mm stereo jack for analogue line-out or headphones
Gaming support includes EAX® 5.0 for accurate audio environments in-game
Creative ALchemy to restore EAX and surround sound that is otherwise lost in DirectSound game titles running under Vista and Windows 7
XP, Vista and Windows 7 compliant
THX TruStudio Pro is specially designed to bring the same great audio experience found in live performances, films, and recording studios to the PC. THX TruStudio Pro provides the fullest audio experience for music, movies and games, while remaining true to the source and intention of the artists who created them. THX TruStudio Pro includes:
THX TruStudio Pro Surround — provides immersion control to enhance the natural sense of audio depth and spaciousness by creating virtual surround sound channels. Stereo content or multi-channel content played over stereo speakers and headphones will sound as if it is coming from all sides while voices remain centred in front and original balance and timbre is preserved.
THX TruStudio Pro Crystalizer — restores the natural dynamic range that is lost when iTunes and MP3 music gets compressed. This makes the music sound as good as the artist originally intended, and adds an enhanced level of realism for movies and games.
THX TruStudio Pro Speaker — fills in the missing low frequency tones and gives the extra impact for a better entertainment experience. Consumers no longer have to tolerate lack of bass in speakers built into notebook PCs, 2.0 speakers or headphones, as THX TruStudio Pro Speaker technology dramatically improves the sound experience without a subwoofer.
THX TruStudio Pro Dialog Plus — enhances the voices in movies for clearer dialogue, allowing the listener to hear the dialogue over the rest of the soundtrack and over ambient noise in the listening environment.
THX TruStudio Pro Smart Volume — addresses the problem of abrupt volume level changes during playback and between songs by automatically and continuously measuring volume, and intelligently applying gain and attenuation to compensate for those changes.
Pricing and Availability

<!-comments-button-->