Enterprise Wireless Broadband Adapter Enables Quick Wireless Broadband to Any Ethernet Connection for Best 3G/4G Signal
CradlePoint Technology, a global leader in 3G/4G networking solutions, has announced another product in its "All-Connected" business series of routers. The CBA750 Mobile Broadband Adapter gives businesses and branch offices the ability to add a secure wireless 3G/4G broadband connection virtually anywhere for redundant or primary Internet access.
The CradlePoint CBA750 is an easy solution to bring the strongest 3G/4G wireless broadband signal back to the server room for true wireless broadband connection or redundancy. Place the CBA750 anywhere in the build- ing for best signal and with the CBA750 Power-over-Ethernet (PoE) feature take advantage of existing CAT5 cabling to bring the connection back to the equipment room.
"Trying to get a good wireless broadband signal in the server room is always difficult. This solution opens a whole new way to provide wireless broadband to companies." said Ken Hosac, Director of Product Marketing for CradlePoint.
Providing IP pass-through capability, the CBA750 is a solid option for a LAN devices requiring wireless broadband access. For most applications, The CBA750 is truly a "drop-in" solution. Simply connect the CBA750, turn the unit on, and it's ready to go — handling the connection without configuration and providing enhanced network connectivity with support for USB and ExpressCard modems running on 3G/4G networks.
Available immediately, the CradlePoint CBA750 has an MSRP of $249.99.
Data Sheet (pdf)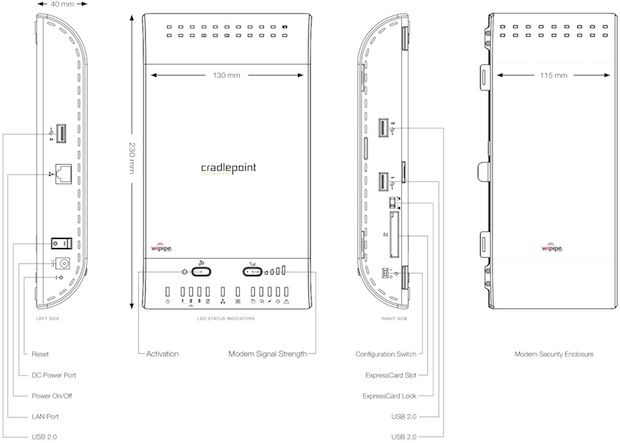 About CradlePoint Technology
CradlePoint engineers and manufactures cellular routers and software platforms that facilitate secure mobile computing via the 3G and 4G mobile broadband networks. CradlePoint's unique WiPipe™ technology provides access and traffic management to improve the security and quality of the online mobile experience. CradlePoint is a privately held company with headquarters in Boise, Idaho.