Clarion announced they will begin shipping three all-new 2011 mobile electronics head units this month.
Clarion's new 2011 products include sleek-new styling, intuitive user-friendly features and dazzling displays. The VX401 (photo above) and VZ401 include a first-class HMI experience on new digital WVGA high resolution widescreen monitors offering smooth-natural input styles. These premium multimedia source units are navigation ready and the widescreen WVGA touch panel displays produce stunningly sharp graphics.
The VX401 is a double DIN unit with a 6.2-inch high-resolution widescreen touch panel display. The low-profile escutcheon panel makes the unit aesthetically appealing in any dash. The VZ401 is a single DIN source unit with motorized flip-out 7-inch high resolution widescreen WVGA touch panel display.
Both the VX401 & VZ401 offer all the premium multimedia features you would expect, Built-in Bluetooth, USB iPod/ iPhone interface, HD Radio Ready, Sirius Direct Connect Ready, front Auxiliary input, rear USB, video output and camera input and OEM steering wheel remote control ready.
"Clarion offers high-quality products with exceptional features and styling at an extraordinary value," states Augustin Leung, Senior Manager of Product Planning for Clarion Corporation of America. "Clarion's entry level CD unit, the CZ101 offers some mid-level features at an entry level price. You've got to love that."
The CZ101 single DIN CD player has an entry level price while offering many features that aren't so entry level. The CZ101 features front AUX input, a wireless remote control, detachable faceplate, switchable RCA outputs and 45w per channel high-power amplifier. The CZ101 has an expensive look, feel and sound for a great value of MSRP $99.99.
These exciting new Clarion 2011 products will be available in time for the Holiday selling season to help boost sales throughout Clarion's distribution network.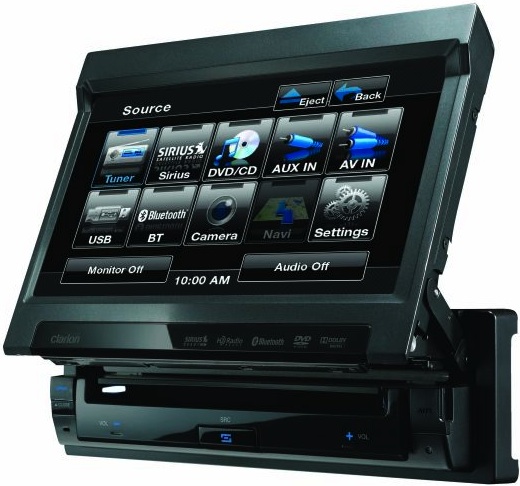 VX/ VZ401 DVD Multimedia Stations: $549.99
VX401 — 2DIN 6.2″ High resolution widescreen WVGA touch panel display
VZ401 — 1DIN 7″ high res. widescreen WVGA motorized flip-out touch panel
AM/FM/ CD-R/ CD-RW/ CD-DA/ DVD Video +/-R/W Playable MP3/ WMA playback (CD/ DVD/ USB)
Front AUX Input
Built-in Bluetooth
USB iPod/ iPhone certified
HD RadioTM Ready
Sirius Direct Connect (DC) Ready
Integrated microphone on front panel
6 Channel 2V Line-Outs (Fr,Rr,Sub)
Audio Power Output 40W x 4
24 Bit D/A Converter
MAGNA BASS EX 12dB
2-BAND PEQ
Low-Pass Filter
OEM Steering Wheel Remote Interface Ready
Rear Camera Input
Rear Video Output
Rear USB
Clock
IR Remote Included
CZ101 CD/ MP3/ WMA Receiver Features: $99.99
AM/FM/ CD-R/ CD-RW/ CD-DA/ MP3/ WMA playback
16 Bit D/A Converters
MAGNA BASS EX 12dB
BEAT EQ/ 3-BAND Parametric Equalizer
Low Pass Filter (Subwoofer) for RCA SW Line Out
Front AUX Input
Bluetooth Ready
2 Channel RCA Audio Output
Maximum Power Output 45W x 4
Rated Power Output 18W x 4
Clock
Blue button illumination
White main display color
OEM Steering Wheel Remote Interface Ready
Detachable Control Panel
IR Remote Included
Size:1 DIN (178x50x163)
Clarion VX401 Reviews
From Critics Around the Web