Stylish digital camera make great use of Casio's high-speed digital technologies
Casio America, Inc. and its parent company, Casio Computer Co., Ltd., released some exciting details about its upcoming digital camera models today. Soon to be released are the slim, compact High Speed EXILIM models EX-FS10 and EX-FC100 featuring high-speed burst shooting faster than an SLR camera.
Casio EXILIM EX-FC100
Casio's effective use of fast digital technologies to deliver unprecedented high-speed burst shooting and high-speed image processing of these new models has exceeded all expectations of what digital cameras should be able to accomplish. These stylish cameras are the first bold step in a major transformation of the traditional definition of the photograph, offering users entirely new ways of enjoying still and moving images.
High Speed EXILIM EX-FC100
By reducing the size of the circuitry and the image sensor units, Casio has produced a very small camera that offers a high-speed 30 shot-per-second burst rate and high-speed movies at a maximum of 1000 fps. The EX-FC100 is a compact camera that fits perfectly in the palm of the hand. The camera also offers a number of other innovative functions including allowing the user to capture a still image while viewing the movement of their subject in slow motion and automatically selecting and saving one frame from continuous shots.
"Casio is dedicated to creating 'out of the box' features and new technology packed into our digital cameras," said Bill Heuer, Vice President of Sales for Digital Imaging Division at Casio America, Inc. "We continue to be at the forefront of the digital camera market, providing new levels of convenience for the consumer taking photographs and shooting high-quality videos."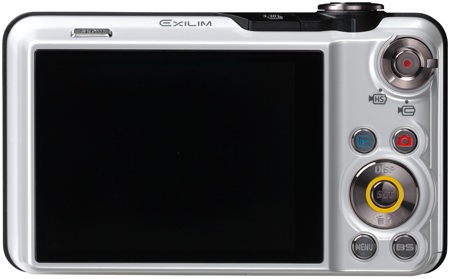 The new camera will be available at retail in April. The EX-FC100 will have an MSRP of $349.99 and will be available in black and white.
More Details
High-speed digital camera that is convenient to carry everywhere
High-speed burst shooting and high-speed movie functions have been squeezed into these slim, compact, highly mobile cameras.
EX-FC100
The EX-FC100 is a compact camera measuring 3.9″ wide x 2.3″ high x .9″ thin. It offers a 5X optical zoom lens with a CMOS shift anti-shake function and a 2.7-inch high-performance Super Clear LCD. This high-speed model boasts an effective 9.1-megapixel resolution.
30 shot-per-second high-speed burst shooting ensures that every crucial moments is captured
The camera can take up to 30 shots per second of high-resolution 6.0-megapixel images. What's more, it can save up to 25 frames prior to the instant that the shutter button is actually pressed, so even if the user hits the shutter a bit late, that special moment will not be missed. The number of shots per second can be set at 30, 15, 10, 5, 3 or auto, and the user can set the total number of shots in one burst at 30, 20, 10 or 5.
Easy, convenient functions that make the most of high-speed burst shooting
The camera can automatically record just the best of the images captured in a high-speed burst. Also, a number of images from a burst can be combined into a single image. It is this high-speed burst capability that offers the functionality for easily creating photos precisely in accordance with the wishes of the user. After taking a set of shots, there is no need to go to the trouble of manually select the best one.
Slow Motion View
By pressing a dedicated button during shooting, it is possible to view the movement of the subject in slow motion on the LCD monitor. The user can press the shutter while viewing the LCD monitor, selecting the perfect moment to capture from a scene that looks as if time has been slowed down.
High-Speed Anti-Shake and High-Speed Night Scene functions
These functions work because the camera can combine a number of images taken in burst mode, and then align the position of the subject to form a single shot. This means that, even without a tripod, zoom photography and night shots are beautifully rendered, virtually making photo blur a thing of the past.
High-Speed Best Selection
To ensure that a natural, fleeting smile is captured, the camera can automatically select the best image from a set of images taken in burst mode, with the subject smiling, with no photo blur, and with the subject's eyes open. The best image will be saved.
Lag Correction
The camera makes it possible to set in advance the time lag between the moment that the user wants to capture and the actual time of taking the picture. This way, it is possible to capture that precious instant at any time, with minimal lag. This works because the camera selects from the images they temporarily store in their burst mode buffers the one image that was taken at the specified interval prior to the shutter being released, and just that image is saved.
High-speed movie recording at up to 1,000 fps
The camera has a high-speed movie function that can record motion that is ordinarily too fast for the human eye to see, and then play it back in ultra-slow motion. The frame rate can be set at 1000 fps, 420 fps or 210 fps. Also, even while recording a movie clip at the standard speed (30 fps), by pressing a single button the frame rate can be changed to the 210 fps high-speed mode.
HD Movie function
The HD Movie function will record beautiful videos at a size of 1280×720 pixels. Also, pressing the dedicated photo button while shooting an HD movie clip will capture a 6.0-megapixel still image.