Acts as an invisible HDMI connection able to stream uncompressed 1080p content wirelessly with a range of up to 100 feet
brite-View by Xpike Innovation today unveiled the Air SyncHD (model BV-2322), featuring Amimon's latest WHDI module. Currently, the Air SyncHD is the only reliable solution for wireless streaming of uncompressed, 1080p/60 content in a multi-room or multi-floor setting within the same house. It establishes an invisible HDMI connection with a 66-foot range (1080p/60) or 100-foot range (1080i/60)when the "WIDE" mode is activated.
brite-View's exclusive "Hybrid Connection" (aka "loop-through" or "pass-through" connection) allows the Air SyncHD to feed two HDTVs from one HDMI source. Simply connect Air SyncHD's transmitter via HDMI to the HDTV and the video/audio source (i.e. Blu-ray player, game console, DVR), and then connect the receiver to a second TV in the house. Viewers can then enjoy the same content available on the primary TV. Air SyncHD users don't need a second set of HD audio-video equipment, even an HTPC normally connected to the primary TV.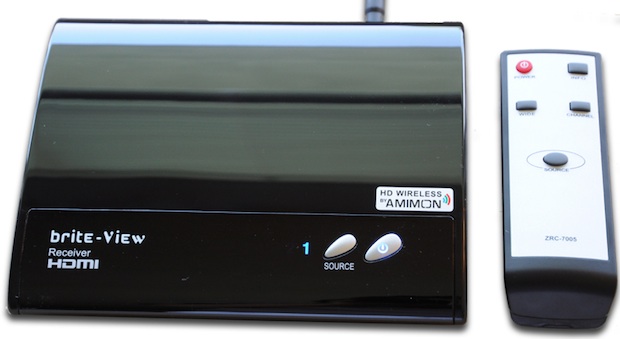 Price and Availability
The Air SyncHD MSRP is $209.99, but it will be available for $179.99 during the pre-order period at www.brite-view.com.
Reviews Around the Web:

brite view air