B&W MT-60D includes five M1 speakers + PV1D subwoofer
Bowers & Wilkins announced the dramatically improved new M1 compact speaker, first launched six years ago, and the PV1D subwoofer, plus new finish option on ASW608 subwoofer, combined to create powerful Mini Theater systems.
Two possible 5.1 system configurations of the upgraded Mini Theatre series are the MT-60D and MT-50. These systems provide users with an immersive experience, but in relatively compact, discreet packages that fit easily into people's lifestyles. Both systems offer excellent performance, but the MT-60D sets new standards for what can be expected from a compact, stylish speaker package. This jump in quality is a result of partnering an upgraded M1 loudspeaker, with the new PV1D, a dramatically improved version of the highly acclaimed opposed-drive-unit subwoofer. The MT-50, a more affordable system option, sees the new M1's partnered with the ASW608 subwoofer.

B&W MT-50 includes five M1 speakers + ASW608 subwoofer
M1 loudspeaker gets enhanced full-range performance. PV1D subwoofer updates the ground-breaking "pressure vessel" Bowers & Wilkins subwoofer with a new digital platform, improved drive units and amplification.
The M1 loudspeaker can be a key component in 5.1 packages, acting as it does as all five speakers in a surround set up — a cleverly designed table-top stand lets the center speaker sit horizontally. But it's also a great stereo solution, as one of the most dramatic upgrades from the out-going M1 is this speaker's full range performance: it now offers a stereo performance comparable to larger bookshelf speakers.
In order to achieve these improvements the M1 has been completely redesigned internally, although only subtle styling differences are visible externally. It features all new drive units, including an in-house designed tweeter, and a bass/mid-range driver that uses the new Anti-Resonance Plug first seen on the high-end PM1 loudspeaker.
As well as these acoustic improvements, the mechanics of the M1 have been updated, with improved speaker cable terminations and a more robust connection to the stands — a table-top stand and wall bracket are supplied in the box, while, a floor stand is available as an optional extra.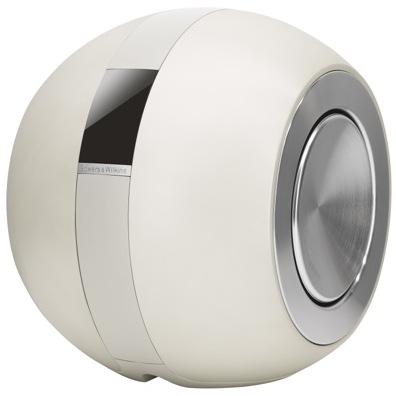 The PV1D subwoofer gets a dramatic update, while retaining its acoustically principled "pressure vessel" structurally inert shape with opposed balanced drivers cancelling cabinet resonance. The PV1D now moves to the digital platform developed for the flagship Bowers & Wilkins DB1 subwoofer and includes a dynamic EQ circuit. This provides increased flexibility and performance enhancements that, coupled with new drive units and amplification, lead to dramatically improved output. In fact, the PV1D has a ±3db specification of a truly impressive 7.5Hz! This very low cut off gives the PV1D a much greater ability to display a sense of space and scale that is relevant for both movie effects and music. In spite of its still compact dimensions and elegant appearance, it is comparable to far larger subwoofers from an acoustic standpoint.
A new OLED display and touch button array provide easy access to a number of pre-sets and tuning options, while a custom version of the SubApp PC software provides more advanced set-up options.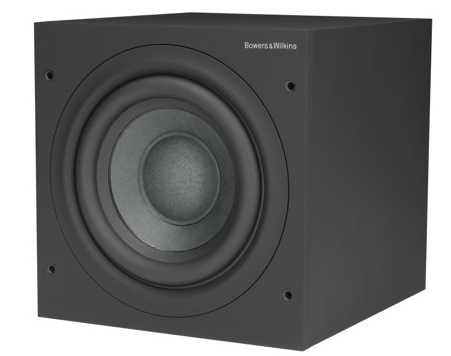 The third element in the Mini Theatre series is the ASW608 subwoofer. While this model remains the same acoustically, it is now available in the same stunning Matte White finish as the M1 loudspeakers.
Price and Availability
All Mini Theatre products are available in stunning new Matte Black and Matte White finishes in early 2012.