| | |
| --- | --- |
| | |
| RS 230 | Right: RS 260 |
Feature Advanced Tweeter Technology and a Striking High-Gloss Black Lacquer Finish Descended from Award-Winning Flagship VS Series

RS 334
Boston Acoustics, a world-renowned manufacturer of high-performance loudspeakers, today introduced its Reflection Series loudspeakers, six models that combine technology and performance to deliver clean, balanced sound in an elegant, sophisticated and modern design. The Boston Acoustics Reflection Series, shipping now, includes the following models:
Notably, the new Reflection Series shares many of the same advanced technologies found in Boston Acoustics' award-winning flagship VS Series.
"With the introduction of our new Reflection Series speakers, our 'good, better, best' component speaker strategy is now complete" noted Eli Harary, Senior Vice President, Global Brand Management & Business Development for Boston Acoustics.
Meticulously Designed and Solidly Crafted
Boston Acoustics designed Reflection's Super Linear Plane (SLP) baffles to significantly reduce acoustic diffraction. Super-shallow grilles use an invisible magnetic attachment and create a seamless alignment with the baffle plane, significantly reducing unwanted sonic barriers. The resulting sound is equally pristine with the grilles on or off. Coupled with Reflection's tightly spaced driver placement, each speaker delivers near-point-source sonic coherence, wide dispersion, and astonishing imaging.

RS 244C center-channel speaker
Joe Stinziano, Senior Vice President of Sales and Marketing for Boston Acoustics noted: "Today's discriminating consumers are looking for loudspeakers that offer superior sound, along with the aesthetics that complement their interior decor and can blend seamlessly with any of the new flat panel TV sets. With our new Reflection Series, Boston once again sets a new price to performance ratio in great sounding and great looking loudspeakers. Thanks to their high quality construction and ultra-scratch resistant black lacquer cabinets, RS speakers will maintain their elegance for many years to come."
Smart Tweeter Technology
One of the keys to the great sound of Reflection Series loudspeakers is the Extended Wide Bandwidth (EWB) tweeter which borrows many of the same performance attributes found in Boston Acoustics' flagship VS line–stabilized linear motion, lower distortion, improved dispersion, power handling, and clarity. Engineers accomplish this by utilizing a special central diaphragm termination (creating a dimple) and rear chamber venting.

RS 223 compact LCR
The primary benefit of the EWB tweeter is that its sound remains linear throughout the entire frequency response. One side benefit is that because the tweeter is firmly anchored in the middle of the cone, the tweeter cannot get poked in.
Multi-composite Woofer Cones
All Reflection models incorporate new Fiber Ceramic Copolymer Material (FCCM) Woofer cones. These cones are made from a composite of fiber and ceramic materials impregnated in a proprietary copolymer. By combining these multi-composite cones with Boston's Deep Channel Design, woofers produce a smooth response over the entire operating range. Listeners get all the thunder of high-output bass and all the subtleties and detail of the midrange–with minimal distortion.
Ultra Scratch-Resistant Finish
Cosmetically, one will notice that the Reflection loudspeakers feature a high gloss, durable black polyester finish, which they share with the company's flagship VS Series. This glass-like, true piano black finish is scratch resistant and adds elegance to any environment.
Model Features
The RS 230 and RS 260 bookshelf models feature 3.5″ and 6.5″ woofers, respectively and produce incredible sound for bookshelf speakers their size. The super slim and thin RS 223 LCR features dual 3.5″ woofers and beautifully mounts next to any new generation thin-panel TV. The powerful RS 244C's unique configuration features quadruple 4″ woofers and enables it to perform perfectly with full size, full range floor standing speakers while maintaining a slim and attractive profile. The RS 334 floorstanding speaker, featuring four high performance 4″ woofers, packs all the performance of a full-size tower speaker in a slender and elegant cabinet. Finally, the 500-watt (1000-watt Peak) RPS 1000 powered subwoofer includes a 10″ woofer and dual 8″ passive radiators, providing the heft and authority of powerful Boston Acoustics bass. All models include widely spaced, gold plated binding posts, and the RS 260, RS 244C and RS 334 also include a second set for bi-wiring or bi-amping.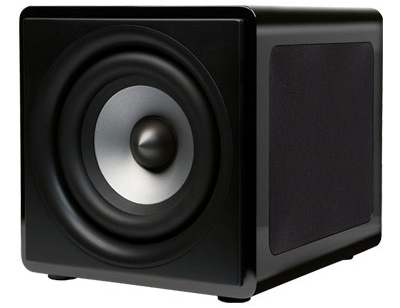 RPS 1000 Subwoofer
About Boston Acoustics
Founded 30 years ago, Boston Acoustics is a world-renowned leader in high-performance loudspeakers, tabletop products, and advanced car audio systems. The company's "Play Smart™" approach is reflected in its product design, which allows customers to enjoy high-performance audio while expressing their personal style and tastes