Bose has announced three new in-ear headphones with StayHear tips:
the IE2 in-ear headphones for MP3 players (no mic or controller)
the MIE2 in-ear headphones with microphone and controller for smartphones and BlackBerry devices
the MIE2i in-ear headphones with microphone and controller designed specifically for Apple products
Each is engineered with proprietary Bose technologies for improved audio quality, and feature new Bose® StayHear tips for greater stability and a comfortable fit.
The IE2 audio headphones, and MIE2 and MIE2i mobile headsets (which are not noise cancelling or sound isolating) offer an enhanced acoustic design using a more sophisticated application of proprietary Bose TriPort® acoustic headphone structure. Music sounds smoother and more natural, instruments have better detail and definition, and high frequencies and vocals are reproduced with improved clarity.
For improved stability — during exercise or other rigorous activity — each new model debuts proprietary Bose StayHear tips. They attach more securely to the headset itself, and then remain more securely in the ear while in use. Designed with soft silicone and a rounded profile, they fit easily inside the bowl of the ear, while naturally conforming to the upper ridge of the ear. Three sizes are included — small, medium and large — ensuring a comfortable fit for hours of listening.

The IE2 audio headphones can be used with a variety of audio sources, including MP3 players, personal computers and digital music players. The MIE2 and MIE2i mobile headsets offer an additional benefit — taking calls with ease from music-enabled mobile phones. They feature a convenient in-line microphone and one-touch answer/end button for seamless switching from music to calls and back. While the MIE2 is compatible with many mobile phones — including all iPhone models and many BlackBerry devices — the MIE2i was designed exclusively for listening to and control of select Apple products, including the iPhone, iPod, iPad and MacBook Pro. Its in-line microphone provides access to certain voice applications in Apple products, and the in-line remote lets users adjust volume and navigate through stored music directly from the headset.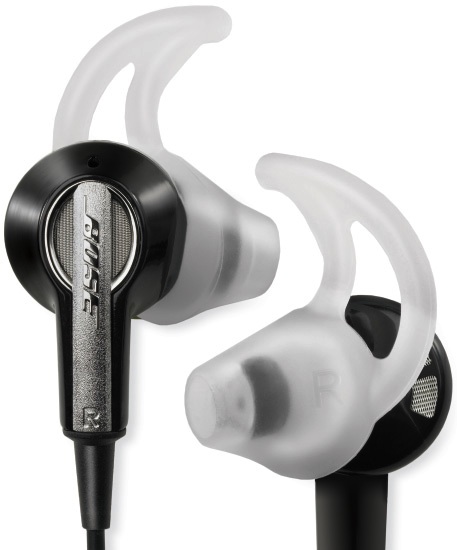 The IE2 audio headphones and MIE2 and MIE2i mobile headsets were constructed and manufactured for lasting quality. From the ear tips to the cables, they have been tested to meet demanding standards for durability. A carrying case is included for added protection and convenience.
Price and Availability
The Bose® IE2 audio headphones are available on August 23, 2010 for $99.95.
The Bose® MIE2 mobile headset is available on August 23, 2010 for $129.95.
The Bose® MIE2i mobile headset will be available in October, 2010 for $129.95.
Along with the new StayHear tips, each new model comes with the original ear tips for a more traditional fit and look.
These new models replace the older the Bose in-ear headphones and Bose mobile in-ear headset, which are currently being discounted.