Greater Noise Reduction, Improved Comfort and Bluetooth Connectivity
Bose has introduced the A20 Aviation Headset — its best-performing, most advanced aviation headset ever.
The new Bose A20 Aviation Headset is the result of more than 30 years of ongoing Bose research in noise reduction technology. It has been engineered to deliver significantly greater noise reduction — even in louder environments — and offers improved comfort, clear audio reproduction, and new features, including a Bluetooth communications interface, auxiliary audio input, and priority switching of audio sources.
Improved Noise Reduction and Comfort for Pilots
To achieve a greater level of noise reduction in the cockpit — where noise levels can reach 105 dBA — the A20 Aviation Headset uses a new, more advanced approach to active noise reduction, leveraging the technology used in the acclaimed Bose QuietComfort 15 consumer headphones for the more demanding applications of pilots.
Bose engineers developed new, sophisticated electronics and a new, proprietary driver specifically for the A20 headset. The electronics combine with microphones placed both inside and outside the earcup to more effectively sense, measure and react to cockpit noise — instant by instant — creating a more precise noise cancellation signal. The driver, designed for higher output levels, reproduces this signal, enabling the A20 headset to deliver its improved noise reduction in louder environments.
For better passive noise reduction, the A20 Aviation Headset features new proprietary ear cushion technology and a new earcup design to block more noise from entering the earcup — while allowing more room for the ears.
Comfort is further improved through precise distribution of weight throughout the A20 headset, allowing for 1/3 less clamping force than most conventional noise canceling headsets.
The resulting experience for pilots is demonstrable: engine noise in the cockpit fades further away, communications can be heard with more detail and definition, and wearing the headset is less perceptible.
New Features for Usability and Convenience
The Bose A20 Aviation Headset includes a new Bluetooth® communications interface (Bluetooth 2.1 hands-free profile) with a new portable control module. Using integrated sidetone technology — exclusive to Bose in an active noise reduction aviation headset — pilots can hear their own voice clearly when the headset is disconnected from the aircraft, and communication is done via a Bluetooth mobile phone.
An auxiliary audio input allows users to connect the headset — via a 3.5mm adapter — to an external audio source, such as a portable GPS or a traffic warning system.
Pilots can also choose between two distinct listening settings for more control over what they hear. In the mixed audio setting, the aircraft's intercommunication system (ICS) signal can be heard along with the auxiliary input signal. With the prioritized audio setting, the auxiliary signal is muted when the ICS signal is present. In either setting, the aircraft's ICS signal and a Bluetooth call can be heard together.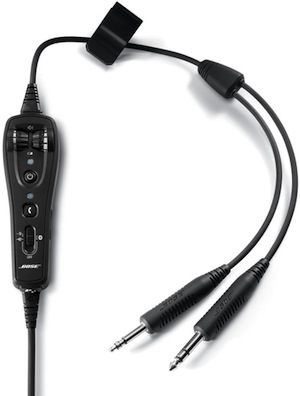 Standard connection options are available with the A20 headset, including Dual General Aviation (G/A) plug and 6-pin Installed. With the G/A plug, the headset is connected to an aircraft's ICS and powered by two alkaline AA batteries for a minimum of 45 hours of operation. The 6-pin installed version can be powered directly from the aircraft or with two included AA batteries. When combined with an optional adapter cable, it provides pilots with a new level of flexibility; they can choose aircraft power or the mobility of battery power. Bose advanced electronics switch seamlessly from aircraft power to battery power and back, without sacrificing performance.
The new Bose A20 Aviation Headset is made in the U.S.A. and weighs less than 12 ounces. Along with two AA batteries, it comes with a newly designed carrying case and an aux-in cable adapter. It also offers a full 5-year manufacturer's warranty, and meets or exceeds all FAA/EASA TSO C139 (Technical Standard Order) requirements.
The Bose A20 Aviation Headset replaces the Aviation Headset X® and is available now for $1,095. It is also offered without the Bluetooth® mobile phone connectivity feature for $995. The A20 Aviation Headsets are sold at select authorized Bose dealers, Bose retail stores bose.com, or toll free at 1-800-242-9008.
"Since introducing the industry's first active noise reduction headset in 1989, we've continued our aviation research with a very specific goal: to improve the flying experience for pilots. With the A20 headset, several proprietary technologies work together to deliver a combination of benefits that wasn't available until today."
— Sean Garrett, general manager of the Bose Noise Reduction Technology Group