Stereo and voice-answer functionality provide wireless entertainment and hands-free communication for motorcycle riders
BlueAnt Wireless today announced the release of the new Interphone F4 hands-free communication system specifically designed for motorcycle riders to talk hands-free on their mobile phones. Easily attached to either full-faced or open-faced helmets, the fully weatherproof, water-resistant Interphone F4 incorporates stereo capability and differentiating voice technology so bikers can enjoy wireless entertainment and mobile phone communication on the road.
BlueAnt is committed to providing ease-of-use and true hands-free functionality in its products through simple voice interfaces. With its voice-answer capability, bikers can take calls by simply saying "Hello." To further increase usability and maximize safety, the F4 also offers automatic voice dialing and redial functionality when supported by the user's mobile phone. Stereo music streaming is another key feature of the F4 allowing riders to listen to music from their A2DP Bluetooth phone and music players.
"We are excited to delight yet another group of drivers with the value of voice functionality," said Taisen Maddern, Executive Chairman of BlueAnt Wireless. "All features are included with the motorcycle enthusiast in mind such as A2DP for wireless music enjoyment, technology to minimize external noise and the ability to withstand exposure from the elements, particularly rain. Whether using the F4 on a solo ride or conversing with other F4 users on a group ride, your trip is going to be that much safer and enjoyable with this communications system."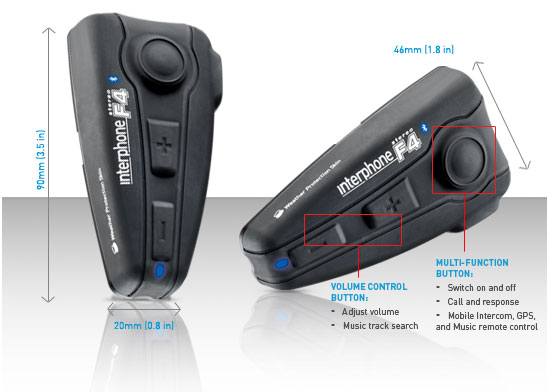 With an automatic volume adjustment feature that fine-tunes to environmental noise caused by speed and a world-class Digital Signal Processor (DSP), the F4 enables excellent clarity of sound in speeds of up to 110 mph. The F4's intercom capability can be used between other F4 units used by either pillion riders or bikers cruising in close proximity to each other (up to 1,640 feet).
The F4 will pair with up to eight Bluetooth devices and multipoint technology allows the F4 to connect to two phones at once. Additionally, bikers can listen to turn-by-turn directions from "motorcycle-friendly" Bluetooth GPS devices and enjoy up to 10 hours talk-time and up to 700 hours of standby time.
The Interphone F4 communication system is supported by BlueAnt's committed customer service program and 2-year warranty. The Interphone F4 communication system is available for purchase on the BlueAnt Wireless web site at an MSRP of $225.00.