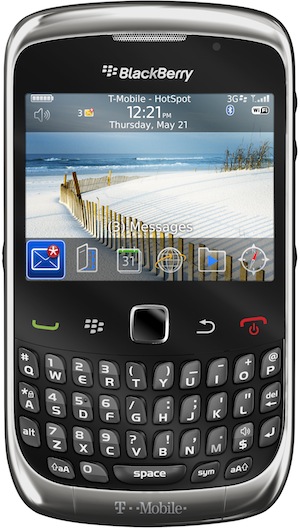 Research In Motion (RIM) just announced the new BlackBerry® Curve 3G (model 9300). Designed to provide the growing mass of smartphone purchasers with a distinctly powerful, approachable and affordable choice, the BlackBerry Curve 3G supports high-speed 3G (HSDPA) networks around the world and gives users the exceptional communications features they need to accomplish more than ever, when they're at home, at work and everywhere in-between.
The BlackBerry Curve 3G smartphone features a comfortable full-QWERTY keyboard for fast, accurate typing, optical trackpad for fluid navigation, built-in GPS and Wi-Fi®, as well as dedicated media keys, so music lovers can easily access their tunes while on the go. The new smartphone also features a camera that can record video and a microSD/SDHC slot that supports up to 32 GB memory cards for media storage. Support for 3G networks makes browsing faster, streaming music smoother, and gives users the ability to talk on the phone while they browse the web, instant message with BlackBerry® Messenger (BBM) or share their location with friends on popular social networking sites.
The BlackBerry Curve 3G ships with BlackBerry® 5 and is BlackBerry 6 ready. It retains the trusted features that distinguish the BlackBerry brand while delivering a fresh and engaging experience that is both powerful and easy to use. BlackBerry 6 is expected to be available for the BlackBerry Curve 3G, subject to carrier certifications, in the coming months.
The new BlackBerry Curve 3G smartphone (model 9300) will be available from various carriers and distribution partners around the world beginning in August. Check with local carriers for details about availability and pricing.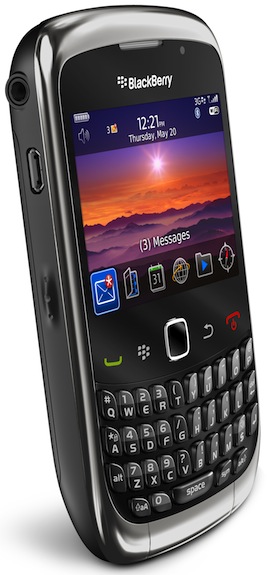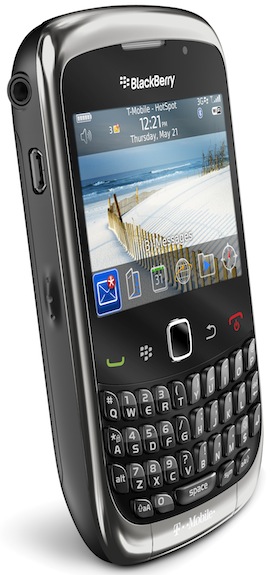 "The majority of people in the worldwide mobile phone market have yet to buy their first smartphone and the BlackBerry Curve 3G is designed to provide an extremely attractive and accessible choice that will help convince many of them to make the leap. The new BlackBerry Curve 3G is a perfect choice for happily busy people who are looking for a user-friendly 3G smartphone to help them make the most of their day and to stay connected with their friends, family and co-workers."
— Mike Lazaridis, President and Co-CEO at Research In Motion
New, premium design
The new BlackBerry Curve 3G is designed to help you get more out of every day. With soft-touch materials, an ergonomic full QWERTY keyboard, and a touch-sensitive optical trackpad you can stay on top of it all, with ease.
Master your everyday with help from 3G
Experience better browsing, fast attachment viewing, quicker downloading and more. With the new BlackBerry Curve 3G almost everything you do is faster than before. Plus, improved Wi-Fi® lets you connect with your data quickly, wherever there's a hot spot. And GPS gets you wherever you want to be.
Stay accessible with push
BlackBerry push technology means no more waiting around. Without you lifting a finger, your emails, BBM messages,
Trackpad Navigation: it's how you scroll
Getting around your smartphone and sending messages shouldn't be a chore. That's why the new BlackBerry Curve 3G smartphone comes with a touch-sensitive optical trackpad. Just glide, scroll, and press to select what you want.
Media at your fingertips — anywhere you go
Carry, watch and share your videos, pictures, files and more. Connect your BlackBerry Curve 3G to your Mac or PC with BlackBerry® Desktop Software and sync your music or media in a few easy clicks. And don't worry about running out of storage — when your collection grows, just pop in a microSD card to hold more of your favorite media files. Ready to watch? Control your media files with easy-to-access media keys on the top of your BlackBerry Curve 3G smartphone.
Multitasking made easy
You never focus on just one thing at a time. Neither does your BlackBerry Curve 3G. You can use all of your favorite apps at the same time — there's no need to close one to use another. Which means you can BBM message your friends, update your status on Facebook®, read incoming emails and more, simultaneously. Plus with 3G, you can talk and surf at the same time so multitasking is made even easier.
Get personal with it
Create a complete BlackBerry experience just for you. Choose intuitive apps designed just for BlackBerry smartphones from BlackBerry App World, including games, entertainment, finance and more. Then customize your smartphone with the little things that'll show off your personal style. Set custom ringtones and notifications, and add cool wallpapers and themes. Finally, round it out with BlackBerry® Authentic Accessories like headsets and cases.
Chat in real-time with BBM
Who wants to deal in fake time when you can deal in right-here- right-now time? With BBM, your messages appear as quick as you can type. A 'D' will appear on your screen to show your message has been delivered. An 'R' when it's been read. BBM keeps you in touch with the people that matter and help you get more out of your everyday.
Long lasting battery
There's nothing quite as frustrating as a smartphone that doesn't last through your busy day. The good news is, whether you're chatting on the phone, sending important emails or surfing the web, the BlackBerry Curve 3G keeps on going. Stop worrying about battery life and do more of what you love.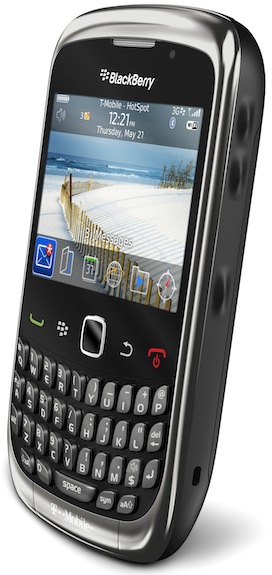 Specifications
Battery Life:

Standby GSM: 19 days
Talk Time GSM: 4.5 hours
Standby UMTS: 14.5 days
Talk Time UMTS: 5.5 hours
Music playback: up to 29 hours

Navigation: Trackpad — Located on front face of device, ESC key to the right and Menu to the left of the trackpad
Keyboard: Full QWERTY keyboard with backlighting
Display: 320×240 pixel color display, Transmissive TFT LCD (65,000 colors)
Camera: 2-megapixel camera with fixed focus, 1-5X zoom, video recording
GPS: Assisted, autonomous and simultaneous GPS enabled with preloaded BlackBerry® Maps application
Wi-Fi Band: 802.11 b/g/n enabled
Network: Quad-Band: 850/900/1800/1900MHz GSM/GPRS/networks
Tri-Band UMTS networks:

Varient A (800/850)/1900/2100 MHz UMTS networks
Varient B 900/1700/2100 MHz UMTS networks

Video format support: MPEG4, H.263, H.264, WMV9
Audio format support: MP3, AMR-NB, AAC-LC, AAC+, eAAC+, WMA, Flac, Ogg Vorbis
Memory: 256 MB flash memory/256 MB SDRAM
Expandable memory: support for microSD card
Battery: 1150mAHr removable/rechargeable lithium-ion cell
Size (L x W x D) 109 mm x 60 mm x 13.88 mm
Other:

Bluetooth v2.1 + EDR
3.5mm stereo headset capable
Integrated speaker and microphone
Hands-free headset capable
Bluetooth headset capable
Integrated hands-free speakerphone
BlackBerry Curve 3G Reviews
From Critics Around the Web