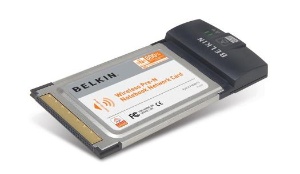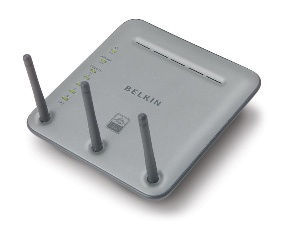 Belkin Wireless Pre-N Products Guarantee 8x Greater Coverage and 6x Speed than Standard 802.11g
COMPTON, Calif, Oct. 27, 2005 – Consumer demands for complete wireless coverage are now fulfilled with the Belkin's new Wireless Pre-N Router, Notebook Network Card, and Desktop Network Card. Powered by Airgo Network's True MIMO™ technology, Belkin Pre-N products improve wireless reliability and performance, and enable users to work with high-bandwidth applications, such as audio and video streaming. This line is currently available in Mexico.
What makes Belkin's Pre-N revolutionary?
8x wider coverage than standard 802.11g
6x faster speed than standard 802.11g
Improved resistance to interference from neighboring Wi-Fi systems and other 2.4GHz devices
Improved performance with 802.11b and 802.11g devices whether employed at the client, AP, or both.
Does not drop to the lowest common networking speed in mixed-mode environments
Seamless compatibility with 802.11b and 802.11g
"Our research shows that, with current wireless technology, people are experiencing poor coverage and performance at farther distances in their homes due to interference from other wireless networks, cordless phones, and other appliances," explains Mark Reynoso, Sr. VP Sales and Marketing. "Our Pre-N products with True MIMO will empower users by providing a wireless network that makes poor coverage issues a thing of the past."
Belkin utilizes True MIMO (Multiple Input Multiple Output) from Airgo Networks in its Pre-N products. True MIMO is the first technology to address the issues of coverage, speed, and interference in larger homes and offices.
True MIMO is a smart-antenna technique that uses multiple antennas to transmit and receive wireless signals. It reaches a step further than other smart-antenna technologies by transmitting multiple signals on each antenna. As a result, Belkin's Pre-N products with True MIMO technology create a robust wireless connection while providing a larger coverage area with the bandwidth and quality of service needed to run advanced applications, such as streaming video or Voice over IP (VoIP).
True MIMO is one of the underlying technologies being considered for 802.11n, a standard in the works for the next generation of Wi-Fi technology.
"True MIMO is a breakthrough technology that fundamentally changes the way radio waves are sent and received. More importantly, True MIMO changes the way consumers are able to use wireless products," says Greg Raleigh, Chief Executive and President of Airgo Networks. "The immediate performance benefits realized with True MIMO, especially over expanded coverage areas, are why this technology has been chosen to power the upcoming 802.11n high-performance wireless standard. Reliability rivaling that of wired connections and effortless connectivity at real-world distances is why Belkin's True MIMO products have ushered in a new era in wireless."
The Belkin Pre-N wireless line includes:
Router (F5D8230-4 – Estimated Retail Price (ERP) $149.99 Pesos)
Notebook Network Card (F5D8010 – ERP $99.99)
Desktop Network Card (F5D8000 – ERP $129.99)
About Airgo
Airgo Networks develops breakthrough technology and Wireless LAN (WLAN) products that enhance existing applications and enable new applications by substantially improving the quality and convenience of the WLAN user experience. Airgo's chipset, software, and reference design solutions provide secure, easy-to-use, standards-compliant WLAN capabilities that work in both the 2.4GHz and 5GHz bands. Airgo's products are based on the IEEE 802.11 standards (commonly known as Wi-Fi). The breakthrough wireless technology provides cost-effective performance for the most bandwidth-intensive applications, eliminating the need for wires at home, at work, and in public places. Founded in November 2000, the company is headquartered in Palo Alto, California, USA; an additional development center is located in Breukelen, the Netherlands. Information about Airgo Networks technology and solutions is available at http://www.airgonetworks.com.
About Belkin Corporation
Belkin Corporation, the global leader in connectivity solutions, offers a range of innovations for the computer, electronics, and mobile consumer. With a diverse and far-reaching product mix consisting of home and enterprise networking, audio video solutions, KVM (keyboard/video/mouse) and peripheral sharing, power protection and cabling, as well as USB and FireWire devices, Belkin extends its reach also to Bluetooth™, cellular, PDA, iPod, and other solutions for mobile computing. Belkin products are available through http://www.belkin.com as well as through a network of major distributors, resellers, and superstores.
iPod is a trademark of Apple Computer, Inc., registered in the U.S. and other countries.